Credits to: 
Lotfi Drif
Facebook is the most underpriced advertising platform of our current time. With over 2.23 billion monthly active users & an average CPM of $7.19 (in USA for 2018), it's easy to see why more people are investing their marketing dollars into Facebook Ads.
Now, I want to cover 3 ways I've been able to get a 5x ROI for my campaigns in the past year or so.
1. Target Proper Ad Audiences.
For cold audiences, I've always found that separating interests individually with each ad set is the best way to start. This gives you a very accurate idea of which interest is converting and which isn't. Combining them all together into 1 would be a good idea once you've already decided which type of interests convert for you but not in the beginning as you have no idea which interest converted. E.g if you're a fashion brand and you individually targeted Supreme, Adidas & Nike & found success doing that. You could then combine 5 other similar brands into 1 adset to scale up faster.
However, if you wanted to test at scale & quickly you could combine them all into 1 ad set at a higher budget to instantly find out whether a group of interests converts to begin with. E.g you could combine 5 shoe brands into 1 ad set, 5 t-shirt brands into another, 5 jeans brands into another etc to find out which one converts the best. Once you find out, you could then separate the 5 brands into their own respective ad sets & go from there.
You'll quickly build up retargeting & lookalike audiences (LLA) if you do this. You can then go on to separate each retargeting audience by event type e.g Purchase, Initiate Checkout & Add to Cart. From there, you'll want to create & test ads like I'm about to cover in the next 2 points. I recommend that each event type & LLA should have custom ads made for them.
Add To Cart audience might receive testimonial ads, checkout audiences might receive a coupon & purchase audiences might be offered to buy more products. If you combined all of these event types into 1 ad set it'd be very hard to convert them all individually at scale. The same goes for LLA audiences. Create one for each event type & separate.
2. Proper A/B Ad Testing.
I find that most ad accounts are either barely testing ads (1 per ad set) or they're over-testing ads (20-30) per ad set & not getting their budget equally shared between the ads to get a clear & statistically significant view of which ads are working & which aren't.
I recommend testing about 6 ads per ad set & later on scaling the profitable ads in their own ad sets with similar creatives once you've found a few winning ones. However, I do not recommend switching off the ones that ''did not work'. Keep those running as long as the entire ad set combined is profitable.
You have to understand that sometimes these ads work together to bring you the conversion you want. You can check this by looking at the frequency of an ad which means how many times a person has seen it. Facebook will usually serve the ads more than once & show the other ones too before they click.
Some people might have seen 2 of your other ads before they saw the 3rd and bought your product. This is known as Last Touch Attribution. The last ad they clicked on that led to a conversion gets all the credit.
So, if you stick to testing about 6 ads per ad set & scaling the best-performing ones in their own ad set whilst using similar creatives, you should see great success.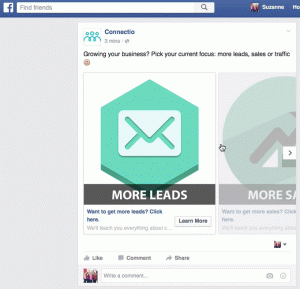 3. Classic Image Ads
Currently, ads consist of the text, image & CTA (Call to Action) button. If you have the right audience & you're testing using the method I showed above, your copy & creatives are the variable. Most of your effort should go into creating the best ad possible. If your copy simply saying "buy X here or download Y here" or something to that effect, you might want to invest into a copywriter and a video editor to help you create the best ads.
In your copy, you'll want to tell stories, give facts, ask questions, answer questions, provide testimonials & many of the times write long-form copy. You want to keep the person on the other end reading, especially if they're a reading type. You do this by writing long-form copy. The same goes with video, test out long-form videos. If you're always using 30 second – 3-minute videos, it might be time to try out 30 minutes – 1 hour long videos. The longer you can hold a person's attention, the more likely they'll proceed to perform the action you want them to e/g optin, buy your product, attend your event.
The longer you can keep their attention, the more trust they'll have in you too. Also, most people assume that if it's a 1-hour long video it must be worth watching, especially if it's good content. Which brings me to the next point.
Most people won't watch an hour-long sales pitch. If you can create some great content such as an interview, tutorial or how to/q&a type video, they're very likely to stick around longer. You get what you ask for. If you post a 30-second ad, you'll probably get 30 seconds of their time. If you post a 2-hour video interview or tutorial, you might get an hour of their time.
Also, most people have become blind to seeing ads in their newsfeed. If you're constantly running ads to sell your services, you're leaving out about 80% of people who will literally just scroll past. That's why running high-quality content ads is the best strategy to stop people from scrolling past & instead spend time with your business.
Hopefully, you know have a better idea of how to scale your audiences, ads & test them effectively. Most importantly, read the data & experiment as much as you can. Treat Facebook Ads like a testing lab. You want to get the principles right, but you don't want to be tied to any rules. Break all the rules & see where it gets you. Thanks for reading this post. If you have any questions, please post them below.
 4. Add Facebook Ads Retargeting
One of the reasons you are running this ads campaign is to constantly find the customers that want your product. Sometimes, they are not ready to purchase your product the first time they see it. That's why you have to make sure to turn on ads retargeting.
This will make sure that you are staying top-of-mind to your most valuable prospects as they explore the web, even outside of Facebook. You can run Google Ads Display on top of this and know when they have visited your website through different attribution channels, then revert the results back to Facebook.
Facebook retargeting is also great for building rapport around your brand so when you are offering new services, that your ads start to come up first. This is because people can see your social signals.