In today's fast-paced world, being productive is essential for achieving success. Artificial Intelligence (AI) has revolutionized how we work by providing us with tools that can automate and streamline various tasks, enabling us to focus on more important activities. This blog post will introduce you to 20 powerful AI tools that will transform your productivity.
These tools range from AI assistants to document management systems and can help you increase efficiency, reduce errors, and save time. Whether you're a student, a business professional, or a busy parent, these AI tools can help you optimize your productivity and achieve your goals. Let's dive in and discover the AI tools that can take your productivity to the next level.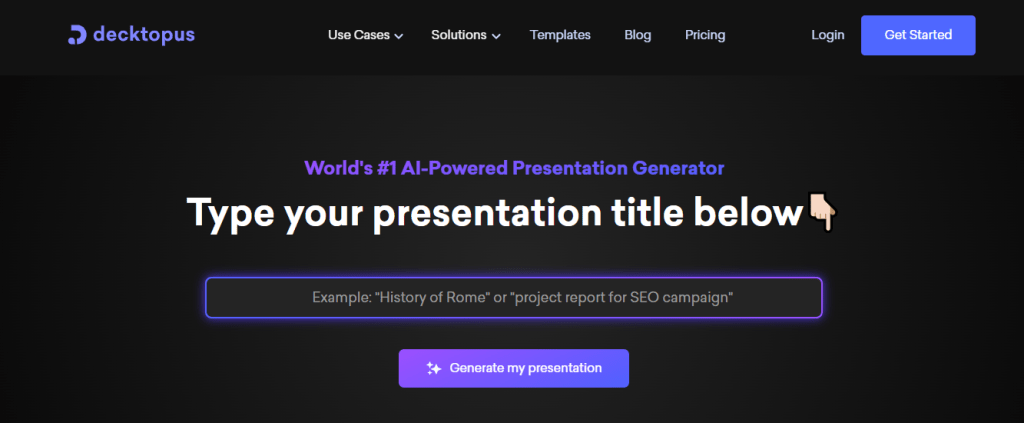 Decktopus AI is a presentation tool that utilizes artificial intelligence to help users create high-quality presentations quickly and easily. It offers a range of customizable templates that can be modified with the user's content, such as text, images, and graphics. The AI-powered platform also provides suggestions for design, layout, and grammar and spelling corrections.
One of the standout features of Decktopus AI is its ability to automatically create a presentation outline based on the user's input, which can save significant time and effort. Additionally, the platform allows for easy collaboration and sharing with team members and the ability to present directly from the platform.
Price:
$15 per month for individuals and $25 for teams. However, pricing and plans may have changed since then.
Promptpal is a platform designed to help users discover and share the best AI prompts. With this platform, users can generate new ideas and boost their productivity by accessing a wide range of AI-generated prompts.
Promptpal offers various features such as an easy-to-use interface, customizable prompts, and the ability to create, save, and share prompts with others. It is an excellent tool for writers, bloggers, and anyone looking to enhance their creative output.
Price:
Based on consultation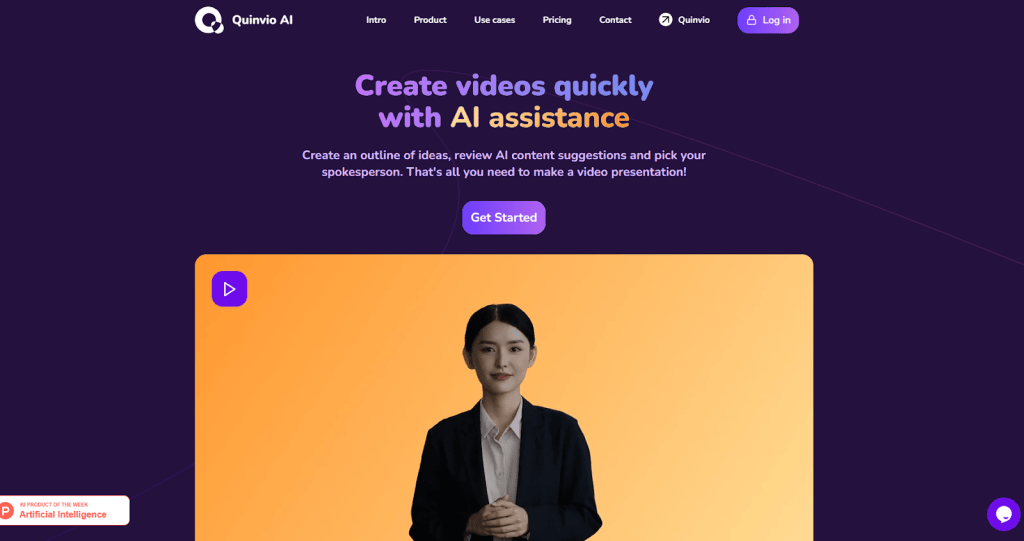 Quinvio AI enables users to create interactive and engaging videos using a concise storytelling format. This platform combines various types of multimedia, including images, text, and video, into a single interactive experience that captures the viewer's attention and keeps them engaged.
Quinvio AI uses machine learning and AI algorithms to analyze the content and create personalized video experiences based on the viewer's preferences. This tool is ideal for businesses, marketers, and content creators looking to create impactful and engaging video content.
Price
Based on consultation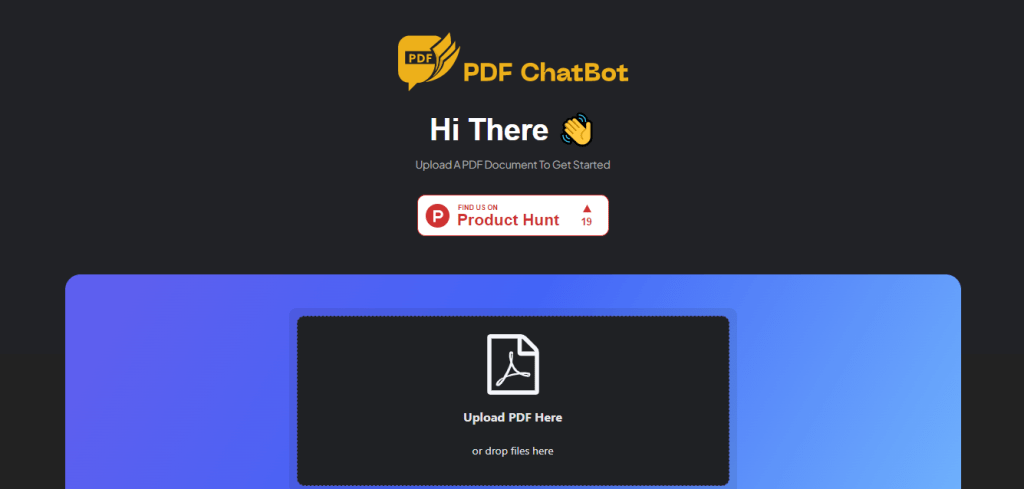 AskYourPdf is an artificial intelligence-powered chat system that allows users to engage with PDF documents in a more efficient and fun manner. It employs cutting-edge AI technology to assist users in swiftly navigating, comprehending, and extracting important insights from their PDFs. It also makes learning from PDFs more enjoyable and enjoyable.
Price
Ask Your Pdf is free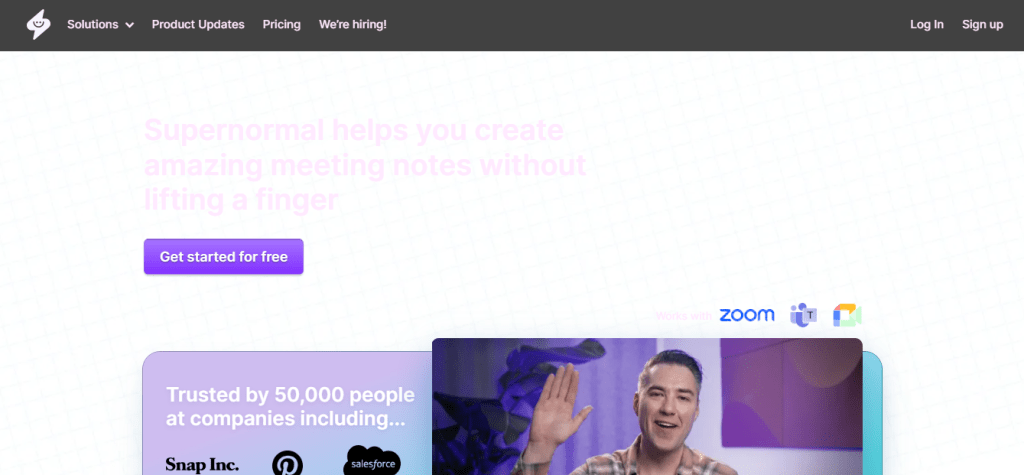 Supernormal transcribes and creates meeting notes for Google Meet automatically. Every meeting, set aside five to 10 minutes. Your notes may be shared right now.
Supernormal is a free tool that automatically captures, transcribes, and writes all of the notes for Google Meet. Easily share your notes and recordings with anybody, or submit them to your CRM, among other things. Your recordings are saved on Supernormal.com for subsequent viewing and sharing.
Price
Based on consultation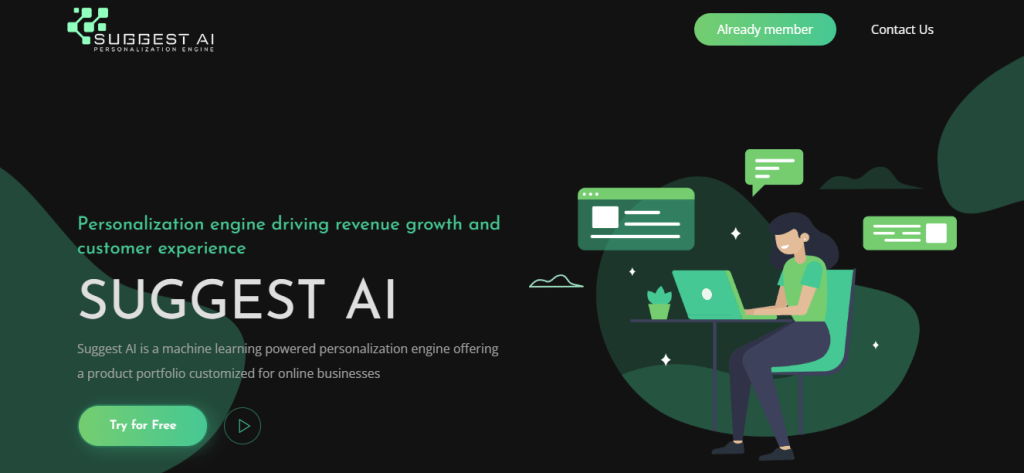 Receive human-like replies to your Google queries powered by GPT-3
You don't have to go through all the results pages with the Suggesty addon; you can obtain the solution right quickly. Your anonymous Google request is sent to GPT-3, and the results are displayed on the Google page.
Suggesty helps with:
– Grammar checking. To fix your phrase, type "fix grammar."
– Interpretation. Your writing may be simply translated into other languages. For instance, "translate to French my name is Nick"
– Cookbooks. Make a drink using the items you have on hand.
Price
Basic: $49/month
Pro: $99/month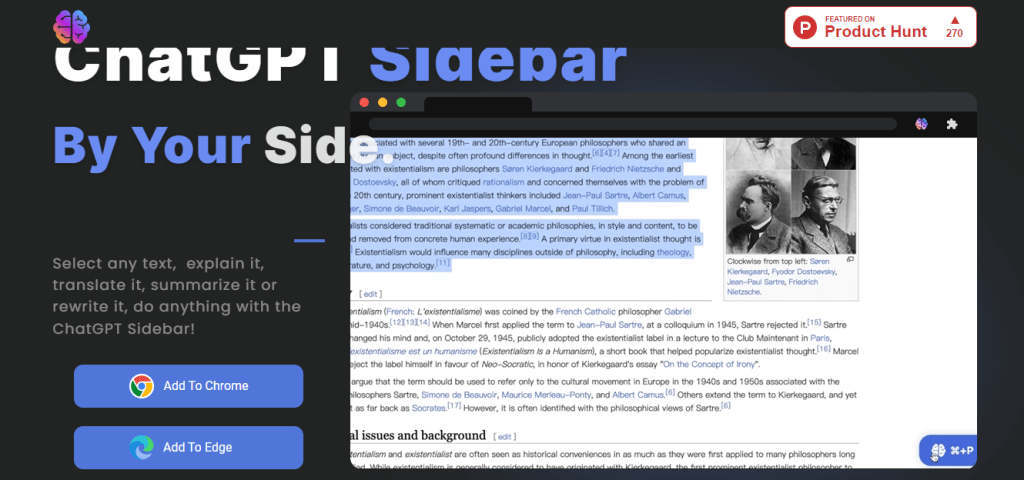 On any page, use the ChatGPT sidebar as your AI helper. The ChatGPT Sidebar acts as your own AI helper, which you may use while viewing any website. For Plus users, it now supports GPT-4!
Here are the top five reasons why you should use the ChatGPT Sidebar (an OpenAI product):
powerful sidebar ChatGPT translator ChatGPT dictionary Grammar checker Customizable prompts
Quick lookup window: The most efficient approach to search for chosen text TTS (Text-to-Speech) capability is simple to enable/disable.
Enhanced search page Personalizable search page prompts (unique in the market) Supports all prominent search engines (Google, Bing, Duckduckgo, etc.) Allows you to enable and disable the search page panel.
Simple access to ChatGPT Supports ChatGPT-3.5 API key Supports GPT-4 for Plus users (New!)
Themes Available in Dark/Light Mode
Price
Starting from $20/month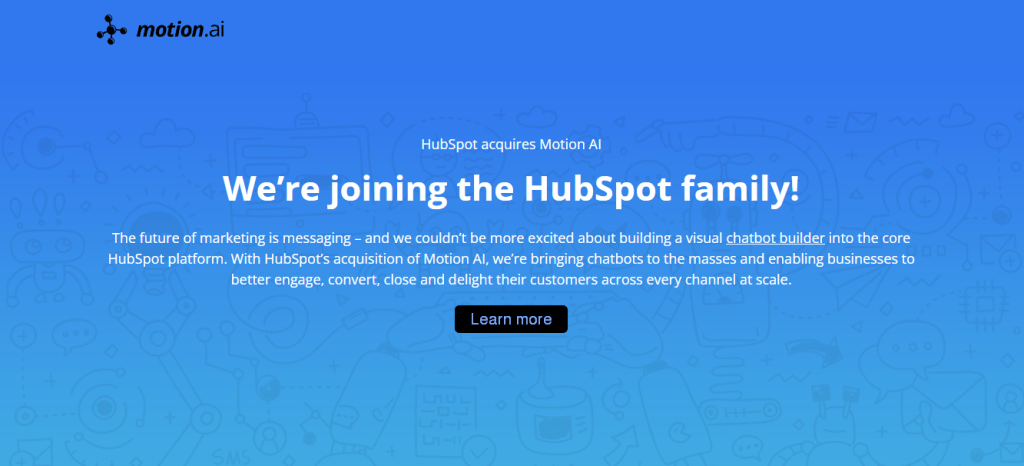 Motion AI is a platform that allows users to create chatbots without any coding knowledge. It offers a drag-and-drop interface, pre-built templates, and integrations with various messaging platforms such as Facebook Messenger, Slack, and SMS.
Price
The pricing for Motion AI ranges from free to $500 per month, depending on the features and the number of chatbots you need to create. The free plan includes basic features, while the paid plans offer more advanced features such as analytics, API access, and integrations with third-party services.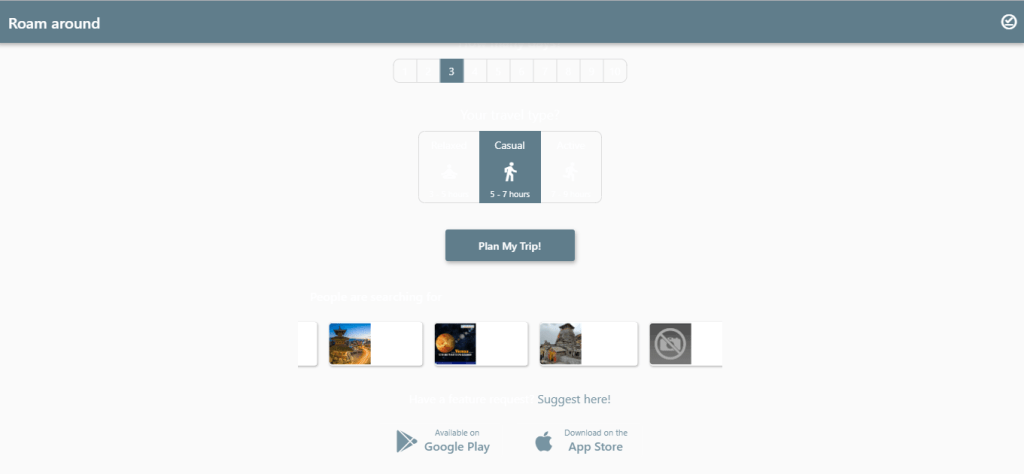 Developers may use Roam around
to add location tracking and associated capabilities into mobile devices. The software development kits may be used to include the features into mobile apps. (SDKs). GPS chips in mobile devices are used to determine location coordinates. When devices are offline, data is briefly saved and transferred when they come back online.
There are four tracking modes to choose from. Every 25 to 250 meters, the most active tracking mode captures the coordinates. The least active tracking mode captures coordinates every 100 to 1,000 meters and offers optimum battery consumption.
Price
Start from $45/month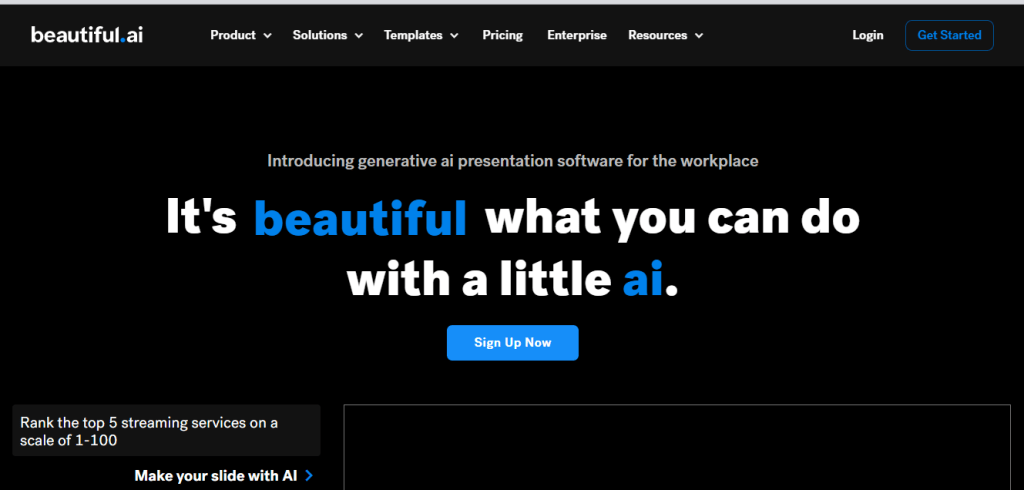 Beautiful.ai is a cloud-based presentation platform that allows anybody to make stunning presentations by utilizing smart templates. The system enables teams to develop and share unique presentation decks in a single searchable library with consistent branding, colors, fonts, logos, and other material.
Beautiful.ai's real-time sync enables remote collaboration across teams, ensuring that everyone is working on the most up-to-date design. Slides adapt in real time to new information, eliminating the need for frequent reformatting, and fresh data can be posted to numerous decks with a single click.
Price
Start from $15/month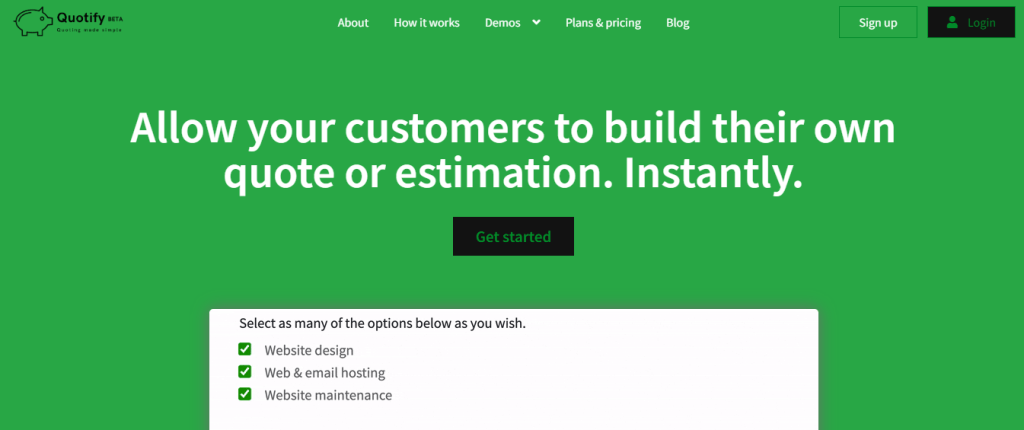 Quotify was created to provide businesses and organizations with the tools they need to offer pricing to clients without having to say things like, "Well, I'll need to know ABC, then XYZ" or "it depends on the length of the shoe string." It's no secret that customers want to know pricing as soon as possible. They want it right now. Quotify provides you that authority.
Price
£ 9.95/month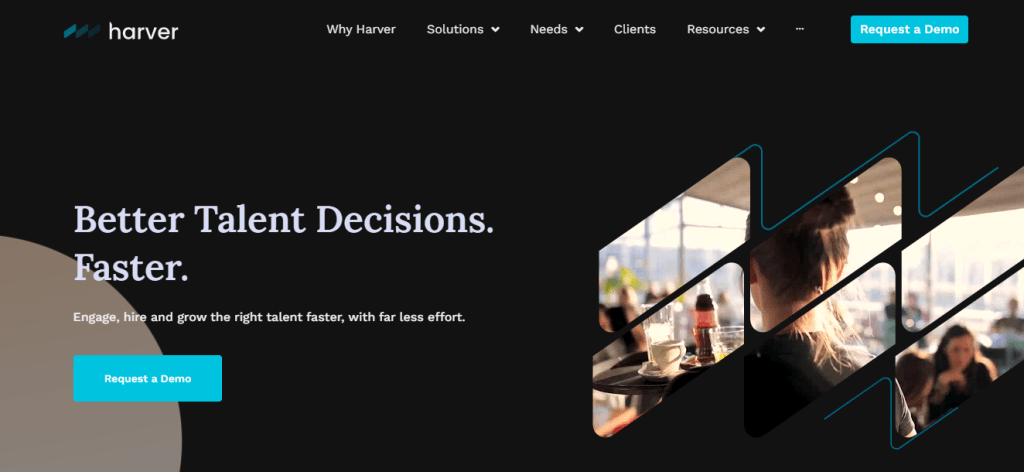 Harver is a cloud-based pre-employment talent evaluation technology that helps large enterprises with volume recruiting. The program makes use of Artificial Intelligence (AI) capabilities based on a proprietary algorithm that self-learns to improve its efficacy in discovering best-fit applicants. Employers may begin by entering their own organizational preferences into the system, personalizing the application experience to fit company branding and identity, before developing predictive evaluations and gamified skill games. Harver's system creates a score % based on criteria such as cultural fit, personality, situational judgements, cognitive abilities, and even competency in 42 possible languages after gathering information.
Price
Based on consultation
Bearly AI is an easy-to-use interface that allows you to produce content fast and effortlessly. It employs cutting-edge artificial intelligence to assist you in coming up with new ideas and producing content that stands out from the crowd. Bearly AI can help you generate content with ease, from authoring to visual design.
Bearly AI also has a plethora of amazing functions. It may develop full pieces of material from scratch or provide direction and ideas to assist you in creating your own content. It may also help you edit and polish current material, ensuring that it is of the highest quality.
Price
Based on consultation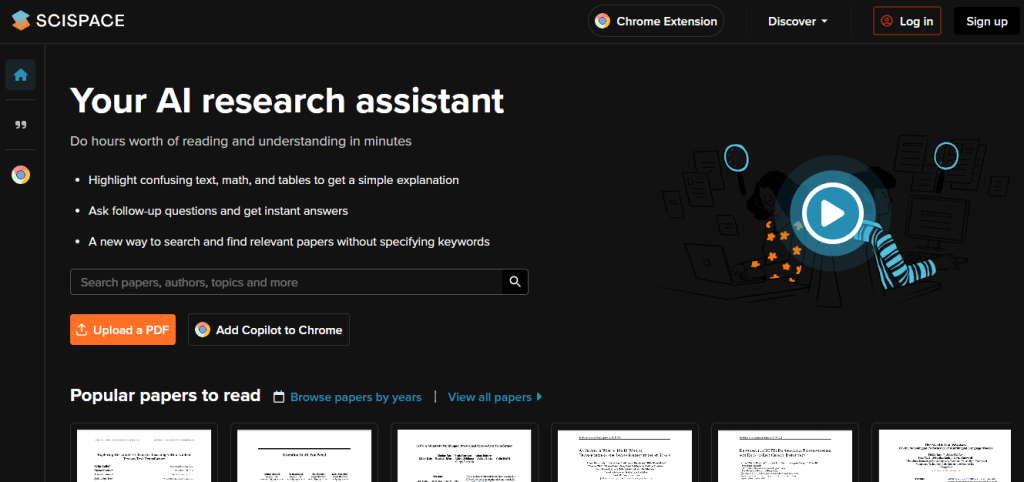 SciSpace Copilot is an artificial intelligence research assistant that explains the language, math, and tables in scientific literature such as research papers, technical blog entries, and reports. You may also ask follow-up questions, and it will respond immediately.
You no longer need to open new tabs and Google unusual phrases or concepts every time you come across one with Copilot. Simply ask Copilot for an immediate, short, and straightforward explanation.
Price
Based on consultation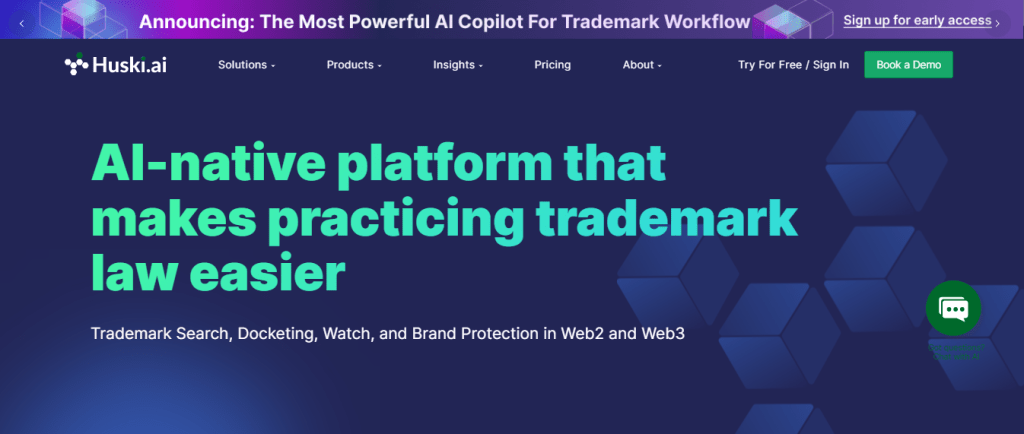 Through office CRM and automation tools, scheduling, dispatching, and field staff management technologies, the Husky AI field service intelligence platform assists medium to big organizations in automating their office, workforce, and customer interactions.
Husky AI is a cloud-based system that enables users to work from any internet-enabled device, including desktop, laptop, mobile, and tablet devices, at any time and from any location.
Husky AI enables a six-step field service workflow with solutions for mobile, invoice administration, job and management reporting, sales CRM, quotation management, and automated scheduling. Users of the sales CRM may track leads automatically, and speedy generation of professional quotations is made possible by the use of personalized quotation templates. Users may email quotations straight to clients thanks to Husky AI.
Price
Starting from £45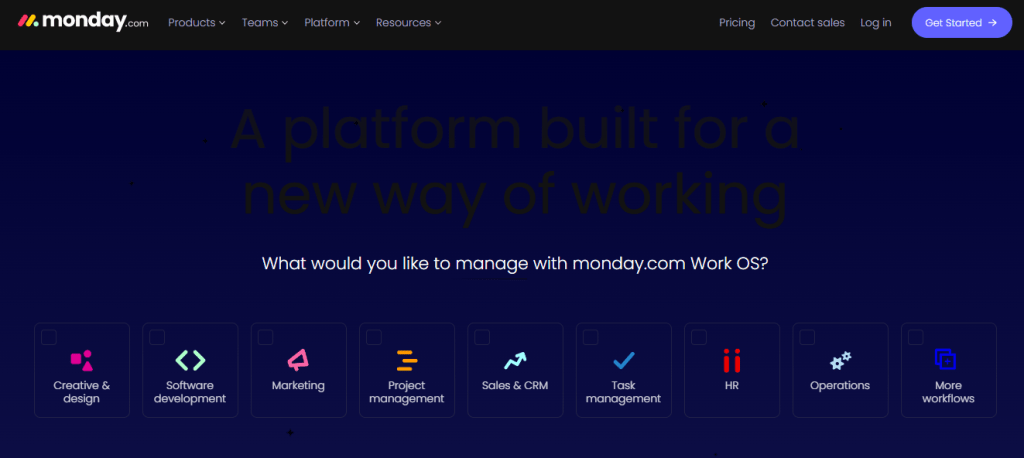 A cloud-based Work OS called Monday.com allows teams to quickly build workflow apps to manage their daily tasks, projects, and procedures. With a platform that swiftly adapts to changing demands, frees teams from manual labor, and unites teams in a collaborative workspace, teams may change their processes and projects without writing a line of code.
The platform's features include time tracking to meet important deadlines, automations to remove manual work, dashboards to gain insightful information and see the status of things at a glance, and integrations with well-known tools and apps to streamline processes.
More than 100,000 businesses utilize Monday.com to free up their workers to work more quickly and concentrate on the tasks that call for their abilities.
Price
Price starts from $8/user

AI OCR solution that can quickly and reliably extract data from more than 700 different document formats. The most sophisticated AI in the OCR market, with a low-code self-learning AI data extraction engine that can read and comprehend practically any document without prior instruction.
Price
Price starts from $0.10/user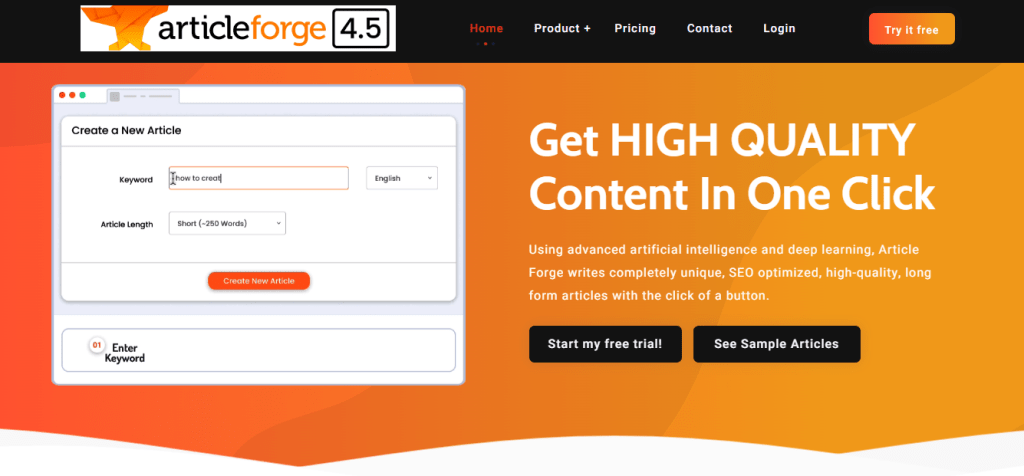 The best AI text currently available, piece Forge produces each piece totally from scratch to ensure that each line flows easily into the next and that each paragraph builds on ideas from the one before. As a result, the articles are inherently accessible, excellent, and pertinent.
There is no faster method to a totally original article on any topic than Article Forge, which can produce whole articles in less than 60 seconds.
The material created by Article Forge is optimized for search engines and is written with the same technologies that businesses like Google use to read content. Simply said, Article Forge was designed to deliver original, high-quality SEO material.
Price
Price starts from $27/user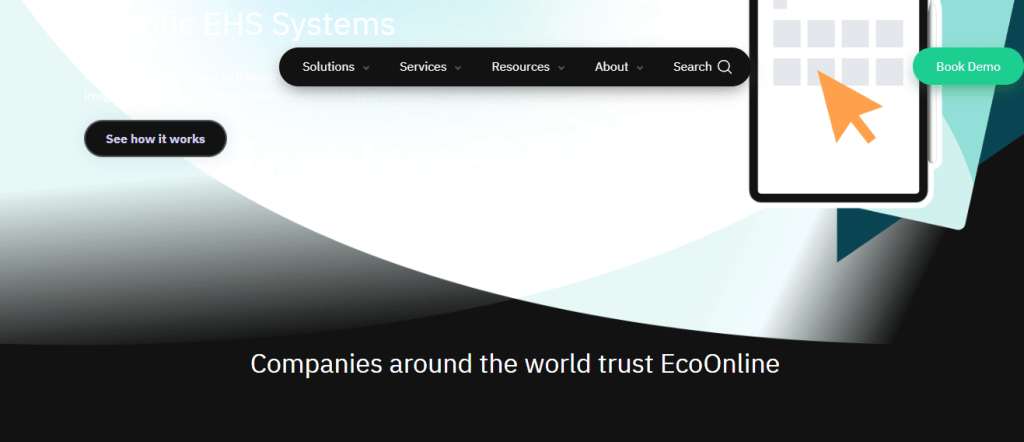 In order to support proactive safety measures that lower risk in your organization, we're assisting health and safety teams in integrating their safety procedures into one secure place and providing immediate control of their data.
The ease-of-use was always a priority in the design and construction of participate EHS, which enables everyone inside your organization to easily participate in health and safety.
Our system may be set up to work with the current health and safety procedures in your company and scale as your safety culture develops.
Our software is the ideal option to meet the demands of improving organizations' health and safety management since it is simple and straightforward to use, versatile in user setup, offers comprehensive paperless auditing and inspection solutions, and has robust reporting capabilities.
Price
Based on consultation.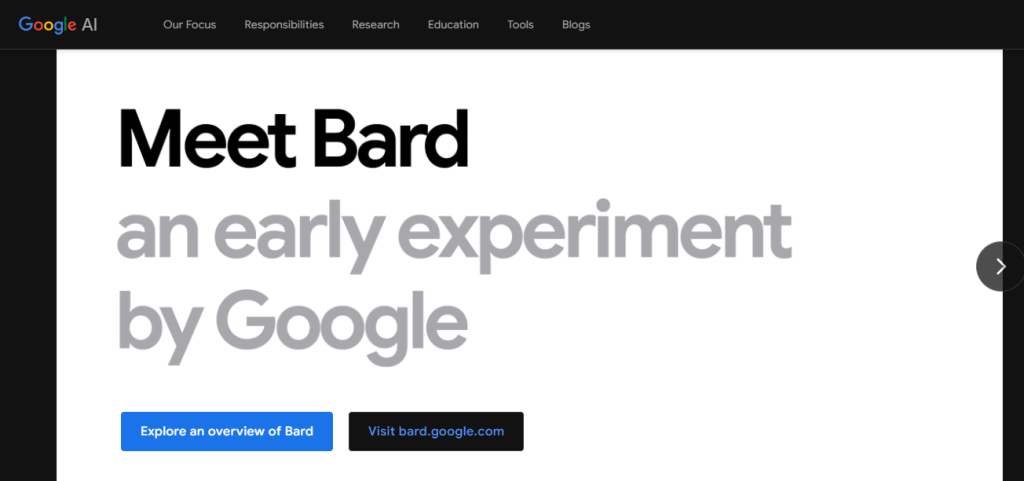 With the use of artificial intelligence (AI), Google Duplex can replicate a person's voice and place calls on their behalf. Users may use it to carry out a number of tasks—including booking reservations, making appointments, and carrying out other duties—without needing to talk to anybody.
By enabling Google Assistant to speak on behalf of people using AI-powered software, Google Duplex marks a significant advancement in the development of conversational AI. Duplex saves time by streamlining common procedures that call for a user to make phone calls, allowing them to concentrate on other crucial duties.
Price
Based on consultation.
Final Words
In conclusion, the 20 AI tools mentioned in this blog post are just a few examples of how AI is transforming productivity and changing how we work. With their ability to automate and streamline various tasks, these tools can help us save time, reduce errors, and increase efficiency.
From document management to scheduling and AI assistants, an AI tool is available for almost every aspect of our work lives. By incorporating these AI tools into our workflows, we can optimize our productivity and achieve our goals more efficiently than ever before. So, whether you're a student, a business professional, or a busy parent, consider exploring these AI tools and take advantage of their capabilities to transform your productivity.