WhatsApp is the social app used most commonly around the world. With over 1 billion users globally, the app has brought a new wave of communication and accessibility.
Due to its ease of use and convenience, it can easily be used as a community management platform by your brand or business.
With the introduction of the WhatsApp Business app, it has become more accessible for businesses to create their business profile and link the app to their Facebook and Instagram pages to connect with customers.
How To Link Your WhatsApp Button To Your Facebook Page
If your primary lead generation channel is WhatsApp, then adding the WhatsApp action button to your Facebook page and your posts is necessary for your customers to reach you faster.
Here's what you need to do to link WhatsApp button to your Facebook brand page:
Step 1: Create a WhatsApp business account
WhatsApp business account is the only type of WhatsApp allowed by Facebook to be linked to a Facebook page.
If you don't have a WhatsApp business account, you can easily convert your personal WhatsApp to a WhatsApp business account or, better yet, download the business account directly with another number affiliated explicitly with your business or brand.
Step 2: Link the WhatsApp with your Facebook page
You can connect your WhatsApp to your Facebook page by doing the following:
Open your Facebook app and go to your page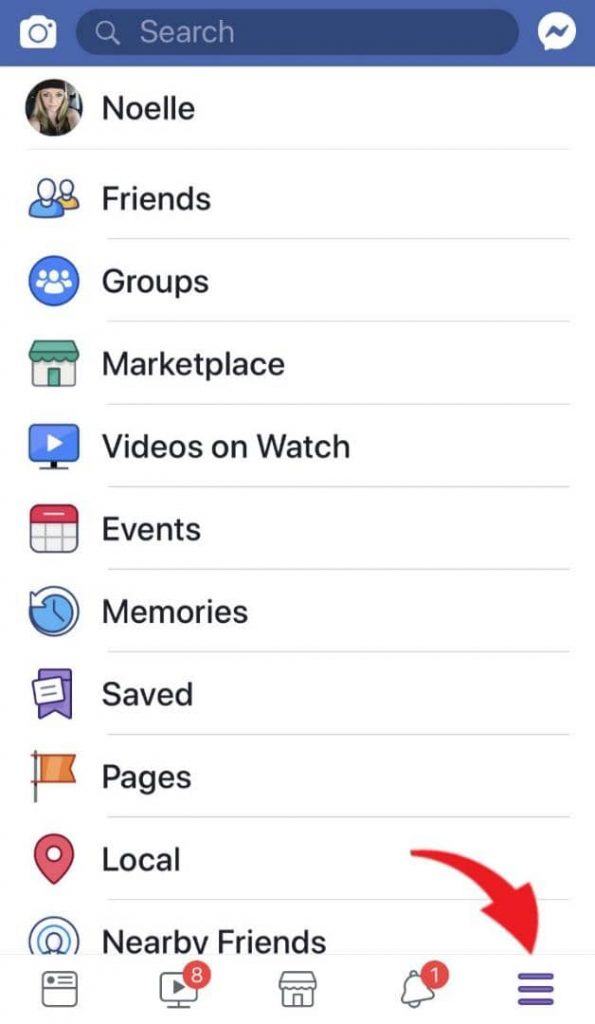 Click on "menu." The menu button is the last button at the bottom of your Facebook app on the right.
Next, click on your Facebook page. You can choose to follow the shortcut or go to pages.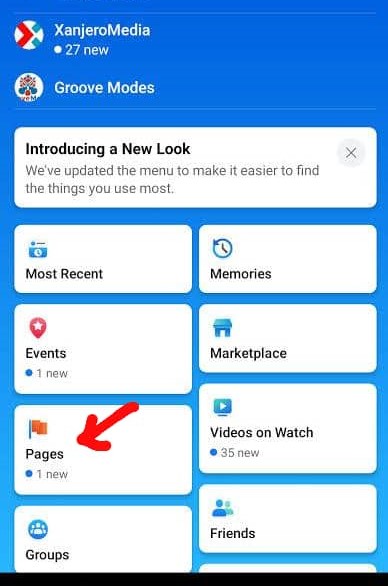 If you click on pages, it will take you here directly. Click on the Facebook page you want to add a whatsapp button to.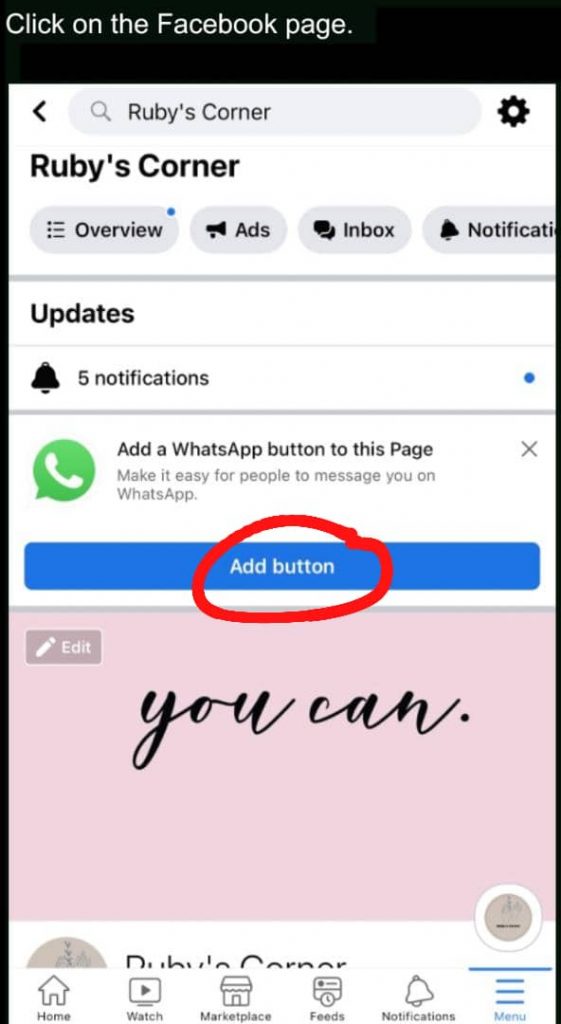 Click on the "Add button" to link your WhatsApp business account with your Facebook page, which will direct you to the picture below.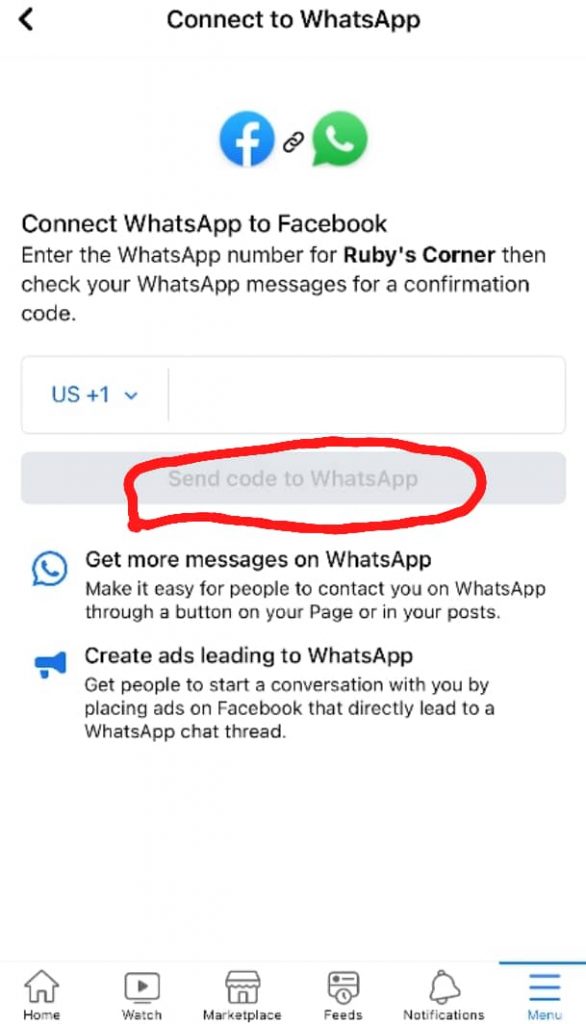 Add your WhatsApp business phone number. Click on "send code." You will receive the code on the phone number.
Add the code and follow the prompts to connect your WhatsApp to your Facebook business page.
How to Link WhatsApp to Facebook from WhatsApp
To connect your WhatsApp to your Facebook from WhatsApp, you need to ensure that both apps have been upgraded to the latest version.
Note: This is only available on the WhatsApp business.
To get started:
Step one
Open your WhatsApp Business app.
Step two
Click on the "More option" for Android. For iOS, tap on "Settings."
Step three
Click "Business tools." which will take you to "Facebook & Instagram." Click on Facebook, then tap "Continue," and log into your Facebook page account.
Once logged in, select the page you want to link to WhatsApp Business, then click on "Connect WhatsApp."
And that's it! You have completed the set-up. The WhatsApp button is now available on your Facebook business page.
Note: If you don't already have a page when you want to link your WhatsApp and Facebook, you can create one by following the instructions below
How to create a Facebook page account for your brand
Facebook business pages launched in 2007, and companies have incorporated this into their marketing strategy to reach a wider audience and connect more effectively and efficiently with their clients.
The social media platform has approximately 2.89 billion monthly active users. This is why having a Facebook business page is a great way to market your brand to a vast audience.
Creating a Facebook business page is easy, and this is how to get started. To create a facebook page, you can follow these simple guide:
First, click on the "menu" button
Click on "pages."
Tap on "create," located on the left side at the top.
Add your brand or company's name.
Tap on "next." and follow the instructions.
Set up by adding your brand, company logo, or poster as your profile and cover page. This will make your customers find and recognize you faster.
Next, connect your Facebook page with your WhatsApp business account.
After that, add your business information. Where is your company located? What do you sell? Who is your target audience? Ensure all this information is readily available on the page, ensuring consumer trust in the business.
Facebook has made this process very simple. Go to the "Set Your Page Up for Success" area and develop the "Provide Info and Preferences" options. Follow the instructions.