The Best Freelance Website For Marketing
As a business owner, you probably know many methods to hunt for freelance jobs. But are you leveraging most of today's freelancing platforms? Freelance platforms are one of the best sites to get new gigs. Thus, knowing which is right for you and your business is crucial.
This article has curated a list of the best freelance websites for marketing. This is for you, especially if you are into SEO, web development, and sponsored ads. These platforms will help you discover the best project and the ideal client.
Let's get to it!
The 10 Best Freelance Website For Marketing Are:
Growth virality
Fiverr
Brenton Way
Upwork
Media Bistro
Credo
Freelancer.com
Legiit
Marketerhire
Rightsideup.com
Growth Virality's Agency Matchmaker is a free service website that connects freelancers and prospects to vetted marketing agencies across multiple niches. They spend time connecting you with the right candidate for the job through their discord community. You can find the following type of marketers:
Brand Marketing
Paid Ads Manager
Growth Marketer
SEO
Social Media Manager
Digital PR
Graphic Designer
Community Manager and lots more.
Price range: Free
Minimum project size: $249 / month
Location:
Employee size:
Key services provided: Agency matchmaking
Key client: Twitch, Medium, Intercom, strip.
There are hundreds of digital marketers on Fiverr. And they offer services in almost every marketing niche. Here, you may discover a service provider for anything. You could find someone to manage your email marketing campaigns. Also, you could see a creator for Instagram images or your content marketing strategy.
In addition, Fiverr started with $5 gigs. It's doubtful that you could get a detailed marketing campaign for that cost, But the charges for freelance marketing consultants are still relatively reasonable. For instance, in email marketing, gigs often ranged from $20 to $40 and started at $5 to $10.
To discover the best freelancers, visit the Fiverr homepage, and search. Use the site's filter to find sellers that provide the specialty and services you need. Now select a few, and view their profiles, portfolios, and gig pages. Additionally, you may use the in-app or on-site messaging system to chat with people you'd love to work with.
Price range: $5 –
Minimum project size:
Location: New York and Tel Aviv
Employee size: 201-500 employees
Key services provided: Freelancing Job Board
Key Clients: Google, Facebook, Netflix,Paypal, P&G
Brenton Way is part of the next wave of marketing expansion. It is a mix of branding and digital marketing into a single, well-rounded strategy.
It has committed growth strategists overseeing the development of your brand.
Also, Brenton Way's team uses fractional marketing specialists who work to meet your company's marketing, branding and consulting needs. These individuals include SEO Strategists, Copywriters, Creative Strategists, Ad Managers, and more.
Price range:$100 – $149/hr
Minimum project size: $1000+ /month
Location: Los Angeles, CA
Employee size: 10-49
Key services provided: Email Marketing, SEO, content marketing, social media campaigns and Digital Marketing.
Key Clients: T-Mobile, Mattel, Suja, Wipro, Charlottes Web, Medable Docupace
This recruitment board is one of the most well-known on our list. If you want to start building your profile as a freelance marketer, Upwork is a wonderful place to start. There are hundreds of offers on the site. And they range from short, one-hour tasks to ongoing contracts.
When project managers need experts to perform their tasks, they turn to this website. One thing to remember about Upwork is that you need client testimonials to get more assignments. It will also help to increase your profile on the marketplace. Remember to follow up and proactively request them each time you finish a task.
Price range: Contact Agency
Minimum project size: $5
Location: San Francisco, California
Employee size:501-1,000 employees
Key services provided: Freelancing Job Board
Key Clients: Microsoft, Airbnb, Bissell
For almost 30 years, Mediabistro has provided tools for media professionals. Besides, they allow digital marketers to build and run a firm's media careers. The platform makes it simple for freelancers to look for the job they want on the website's job board. Also, it assists in the development of vital expertise and new talents.
Price range: Contact Agency
Minimum project size:
Location: New York,NY
Employee size: 11-50
Key services provided: Job board, career development
Key Clients: Bloomberg, CNN, Dow Jones, Fox News, Group nine, HBO, NBC Universal, Meredith, Penguin Random House.
Are you skilled in Google Ads, Facebook Ads, Amazon Ads, content marketing, or SEO? Credo is another newly launched website where digital marketers go for the best agencies to work with. Before joining the network, users must go through a verification procedure. Hence, they ensure that all businesses connect with the right expertise.
Price range: $2500-$10000
Minimum project size: $2500
Location: Denver, Colorado
Employee size:
Key services provided: SEO, PPC, Content Marketing, Google Ads, Facebook Ads, Amazon Advertising
Key Clients: Atlassian, Google, NewYork Times, Adobe, Hired, Airbnb.
Established in 2009, Freelancer.com has a lot of skilled marketers in one place online. Use the search criteria when hiring on Freelancer.com. And ensure the individuals are eligible for the particular position you want. Also, you can contact designers or submit a job offer to invite applications.
Furthermore, you have the choice to hold competitions. That is, independent contractors, present their ideas so you may select the best one. Designers may establish thorough portfolios on Freelancer.com. Thereby giving you extra details to analyze as you make your choices.
Plus, they test the freelancers to confirm their skill levels and provide that report to you. A streamlined mechanism is in place if you ever have a disagreement that needs a result.
Price range: Contact Agency
Minimum project size: Contact Agency
Location: Sydney, NSW
Employee size: 201-500 employees
Key services provided: Freelancing, Crowdsourcing, and Outsourcing
Key Clients: Amazon, Facebook, Deloitte, NASA, IBM, Google, Fujitsu.

Legiit is a freelance marketing platform that allows buyers and sellers to connect. Like every other freelancing platform, this website provides an avenue where professionals and marketers can outsource jobs to qualified freelancers.
Many freelancers on Legiit platform are experts in their different crafts and have the best industry experience on outsourced jobs. Thus, the work is up to industry standards. Legiit targets a distinct market niche and does not do so many things all at once like other freelancing platforms, providing a unique experience for its users.
Legiit platform is secured, and jobs done are exclusively shared between the client and freelancer. The platform is unique in showing clients or buyers precisely what they are looking for on the site. For instance, if a client is looking for a designer, that's exactly the listings that will show up as they scroll through the platform.
The customer support at Legiit is top-notch. They provide users with the best support and resolve disputes or disagreements between buyers and sellers. They also have community features that share insight on how to get the best experience from the platform.
Price range: $5
Minimum project size:
Location: Myrtle Beach, South Carolina, United States
Employee Size: 10
Key services provided: Freelancing job board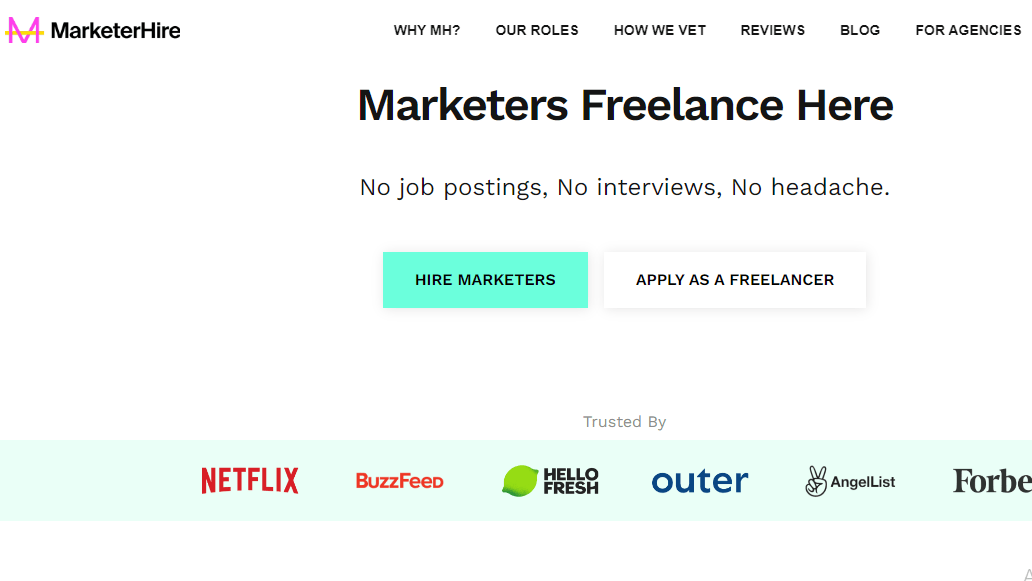 One of the best platforms out there for seeking exceptional freelance marketers for your business or brand is markerterhire. Freelancers on the platform have a track record of delivering quality jobs and are highly qualified with excellent communication skills.
The unique thing about marketerhire is that they take their time to match you up with qualified freelancers who fit into your budget and project and would get the job done at the stipulated agreed date. On marketerhire, clients are not bound to a lengthy contract, and their price is fair.
Below are some of the types of freelancers available on MarketerHire:
SEO experts
Email Marketers
Paid search marketers
Growth marketers
Amazon marketers
Content marketers and so much more!
The platform has an advantage over other freelancing platforms since they have a talented team devoted to finding and hiring the finest marketers to freelance on its platform, making it more straightforward for clients to find and work with the top freelancers.
Price range: $80-$160 per hour
Minimum project size: $1500 monthly
Location: Santa Monica Blvd. Los Angeles
Employee Size: 51-200
Key services provided: Freelancing, Agency Matchmaker
Key clients: Netflix, BuzzFeed, Hello Fresh, Outer, AngelList, and Forbes.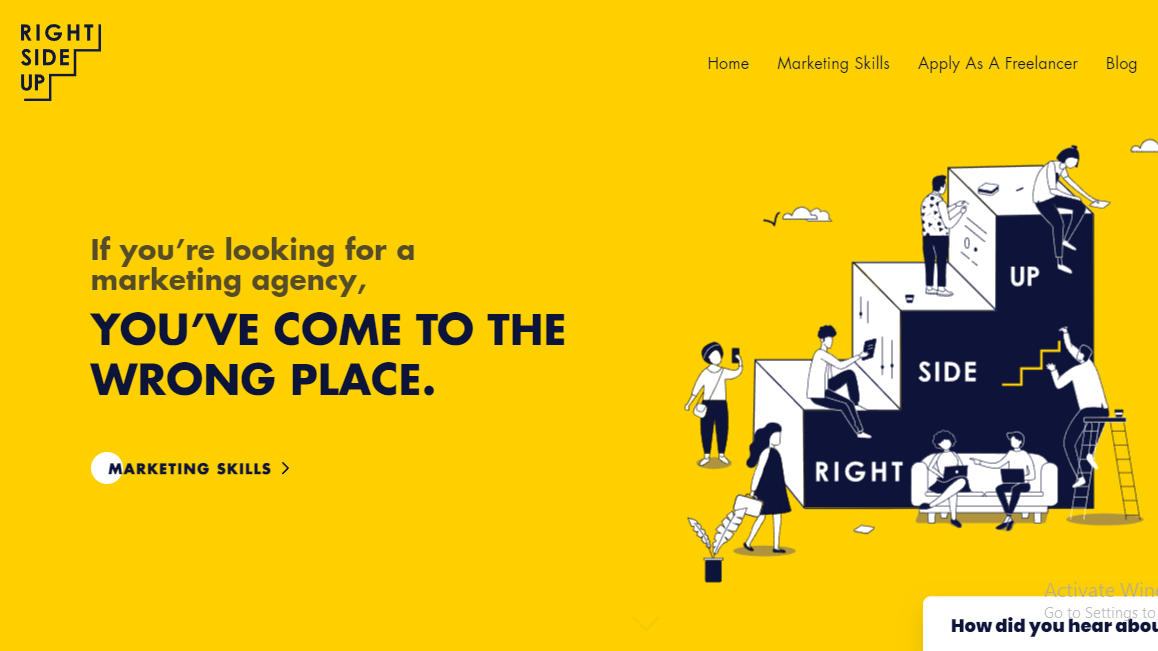 Right side up is a marketing platform to get high-quality marketing freelancers with all the excellent marketing benefits, which are cost-effectiveness, meeting your target audience where they are and right on time and increase in engagement and reach. With Right side up, freelancers do not need an agency since they can easily set up their profile and start earning on the platform.
Marketers on the Right side Up are highly qualified with in-demand skills of the 21st century and execute their jobs in the most professional way ever.
They help you curate a list of the best freelancers to help you achieve your growth marketing strategy with the best innovative campaign.
Price range:
Minimum project size
Location: Austin, Texas, United States
Employee Size: 9
Key services provided: freelancing job board
Key clients: Brightwheel, Calm, Crunchbase, DoorDash, Ethos, FAIRE, HoneyBook, and so many more! 
Final Thoughts
Of course, there are numerous ways to find new projects. Having listed the best freelance website for marketing, which would you go for? Kindly share your thoughts in the comment box below.