No matter how much of an expert marketer, you are bound to hit a wall a few times along the road. There is always something new popping out with various digital marketing KPIs to meet in the industry, and if you are not part of the inner circle, you might miss out, and this may disrupt your essential campaigns.
This is why it's beneficial to join a Facebook marketing group so you can always ask for advice and solve problems immediately.
The growing micro-communities within Facebook marketers can solve your problems and provide tons of Facebook ad hacks, marketing information, and values.
We have compiled a list of the 10 best Facebook marketing groups worth joining and why you should join them today.
Let's dig in!
Top 10 best Facebook marketing groups to join:
MozCon
Picasso Content Marketing
3 pm Links by SearchEye
Product & Growth with Josh Fetcher
Marketing Solved
Ahrefs Insider
Facebook Ads Experts Academy
Social Media Managers
Ecom Empires
Digital Marketing Hub

Moz is well-known in the marketing and SEO industry worldwide. Their MozCon event is an excellent opportunity to meet and share ideas with fellow marketers from different units of the digital market space. If you plan on being in Seattle at one point, we recommend attending this conference.
The event is usually slated for three days to mingle and interact with marketers from around the globe.
The event now has its own Facebook Group where former attendees can further interact with one another.
Group Type: Closed
Group Owners: Moz
No of Members: 4500+
Group Link: https://www.facebook.com/groups/267812320063651/

This Facebook page is well-liked among creators and marketers on Facebook. It focuses on content marketing, one of the most popular marketing subjects. As the name already suggests, the group is an advocate of the popular content marketing framework PICASSO, which stands for Plan, Infrastructure, Create, Amplify, Syndicate, Share, and Outcome.
Through effective content marketing methods and approaches, the group assists its community members in expanding and developing their businesses. You should join Picasso Content Marketing if you are also involved in creating content in your organization. You can also join to learn content marketing basics when you want to use it for your business.
Picasso Content Marketing is a strong community that enjoys helping, communicating, and exchanging valuable marketing insights with its members. Admins in this group frequently post "how‐to" videos and helpful articles weekly.
Group Type: Closed
Group Owner: Paul Clifford Bannister
No of Members: 29,000+
Group Link: https://www.facebook.com/groups/439556516151256/

This is an open group that provides insightful answers to marketing questions.
The group is spam free, with a knowledgeable community of professionals who moderate and keep activities going in the group and take their time to answer questions and exchange industry information with one another.
Group Type: Public
Group Owner: Ryan Stewart
No of Members: 14,000 +
Group Link: https://www.facebook.com/groups/digitalmarketinghelp/

Another well-liked Facebook group with more than 30,000 members is Product & Growth with Josh Fetcher. It focused on marketing and was developed for experts who wish to exchange knowledge and advance their careers.
As with most reputable and influential groups accessible today, you are not permitted to advertise on the group. However, you are invited to discuss your most compelling case studies and tactics.
As a result, both your peers and successful marketers may teach you a lot.
You get to learn about their approach and process and how you can adapt your strategies to get similar results.
Group Type: Closed
Group Owner: Josh Fetcher
No of Members: 24,000 +
Group Link: https://www.facebook.com/groups/growthmarketers/

Marketing Solved is a closed Facebook group focusing on impacting new and experienced marketers with marketing lessons and strategies to scale their businesses.
The group is supported by a robust network of marketing experts who can assist you in honing your abilities through marketing training, advice, tutorials, publications, business and marketing strategies, and success stories.
The group administrators do a fantastic job of keeping it free of spam and establishing customs that add to the general activity of the group. These customs may include rituals that individuals follow monthly or daily. These rituals allow people to concentrate on particular issues and can be highly beneficial because they tend to drown out background noise.
The group was created and managed by marketingsolved.com, a website that focuses on marketing and helps people with tutorials, free guides, and other marketing resources.
Group Type: Closed
Group Owners: Marketing Solved
No of Members: 27,000+
Group Link: https://www.facebook.com/groups/MarketingSolved/

This group was primarily created to help Ahrefs users by providing them with answers to their questions about the tools available on the Ahrefs website. Since then, it has grown exponentially into a community of SEO marketing experts where members can discuss everything SEO.
Here, you can find solutions to all SEO-related issues you encounter daily and develop your knowledge on this vital marketing-related topic.
Group Type: Closed
Group Owner: Tim Soulo
No of Members:17,000
Group Link: https://www.facebook.com/groups/ahrefsinsider/

Content and communication are also a part of marketing, but not all there is to marketing itself. The Facebook Ads Experts Academy group focuses on these highly neglected elements of your strategy and merges them with advertising. The group comprises marketers who already run Facebook ads and, as a result, have a medium or intermediate proficiency level with it.
Group Type: Closed
Group Owners: Depesh Mandalia
No of Members:22,000+
Group Link: https://www.facebook.com/groups/AdvancedMarketers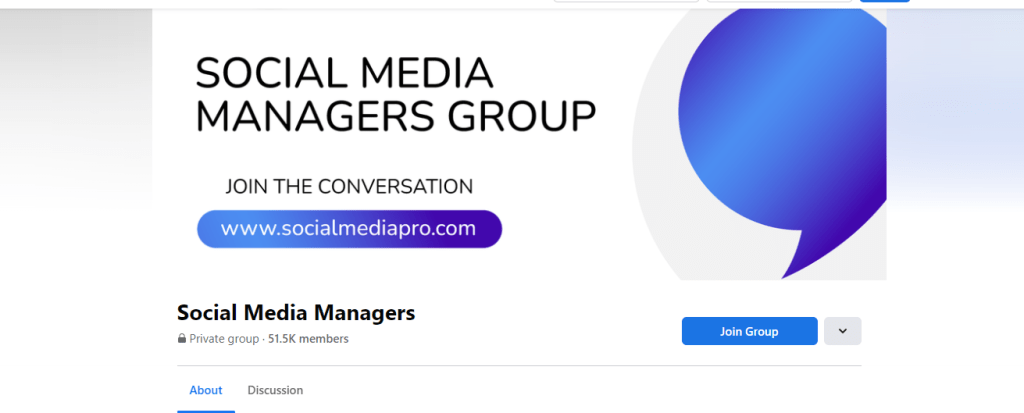 the Social Media Managers is one of the oldest marketing groups still providing great insights. While the group is closed, everyone can apply for membership and participate in a lively and well-informed community of professionals and marketing enthusiasts.
With over 40 000 members, the group has a lot to offer, especially when meeting fellow professionals and getting valuable insight into marketing and social media management.
Group Type: Closed
Group Owners: Social Media Pro
No of Members: 51,000 +
Group Link: https://www.facebook.com/groups/socialmediamanagers/

If you are a marketer who runs an eCommerce website or plan on running an eCommerce business, this group is the place to be to get all the needed scoop.
You'll meet fellow professionals with similar interests, exchange valuable information and learn how to run an online store from scratch.
The group is suitable for experienced and newbie marketers. This place is perfect to be if you want to learn how to scale your online campaigns and optimize them properly.
Group Type: Closed
Group Owner: Nick Peroni
No of Members: 100,000+
Group Link: https://www.facebook.com/groups/ecomempires
Digital Marketing Hub may be one of your best choices if you are searching for an open, free-to-join marketing group. Being open, you get to evaluate the content before joining and, thus, know right from the start if it is what you are looking for.
The group has over 45,000 members sharing insightful marketing tips daily and moderators who ensure the group is free from spam.
Here, you are bound to learn more about digital marketing and be up to date with the latest trends and developments in the industry.
Group Type: Public
Group Owners: Prateek Shah and Digital Defynd
No of Members: 52.000 +
Group Link: https://www.facebook.com/groups/DigitalDefyned/