Artificial Intelligence (AI) is rapidly transforming the world of branding and marketing. With its ability to analyze large volumes of data and make accurate predictions, AI is helping businesses enhance their branding strategies and create more targeted and personalized customer experiences.
From analyzing social media sentiment to creating automated chatbots, various AI digital marketing tools can help businesses take their branding efforts to the next level. In this blog post, we'll explore the top 12 AI tools for branding that you need to know about. Whether a small business owner or a social media marketing influencer, these tools can help you streamline your branding efforts and achieve better results.
Here are a few examples of how AI is used in branding:
Personalization: AI personalization branding enables businesses to adjust how customers interact with them depending on their actions, comments, interests, and popularity.
Customer segmentation: By grouping consumers into comparable groups using various AI techniques, marketers may execute focused marketing that is appropriate for each group.
Automation: Teams may automate repetitive processes like emails, reports, and typical inquiries using AI marketing solutions, saving time and money.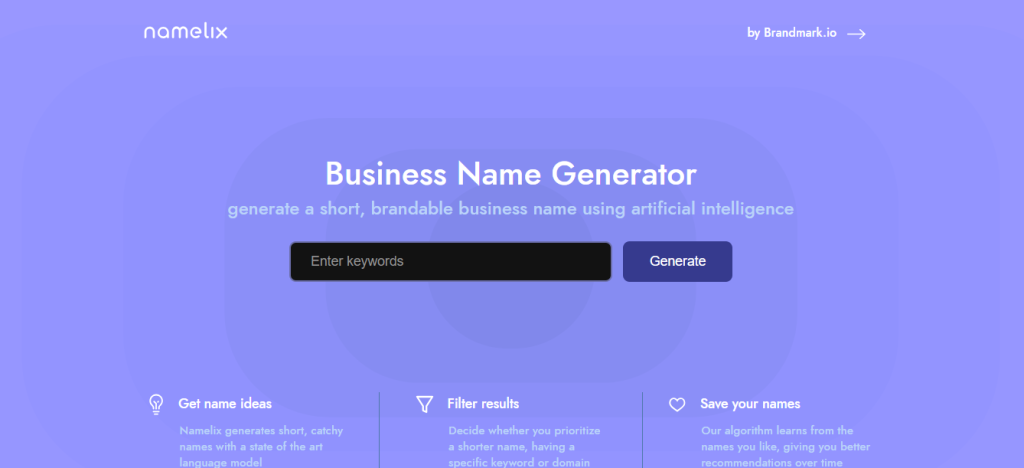 Namelix is a cutting-edge corporate name generator that uses artificial intelligence. It helps customers develop original and distinctive company names. Namelix creates short, meaningful names tailored to the user's business concept with a cutting-edge language model. Whether starting a new business or rebranding an established one, Namelix can help you find the ideal name.
Namelix also offers a logo design tool driven by artificial intelligence, Brandmark.io, to help users build a professional logo for their business. Namelix is a fantastic resource for new businesses since it gives them short brand names that are original, memorable, and economical.
Main Features:
Name generation: Namelix uses artificial intelligence to generate unique names based on the keywords and preferences provided by the user. The tool provides a list of potential names available as domain names.
Customization: Users can customize the generated names by selecting different options, such as the length of the name, the use of hyphens or numbers, and the inclusion of specific keywords.
Brand identity: Namelix offers a range of visual branding tools to help users create a professional brand identity, including logo design, business card design, and social media graphics.
Domain name availability: Namelix checks the availability of domain names for the generated names and suggests alternative domain names if the desired one is unavailable.
Trademark search: Namelix also provides a trademark search tool that allows users to check the availability of trademarks for their desired names.
Price: Namelix is free.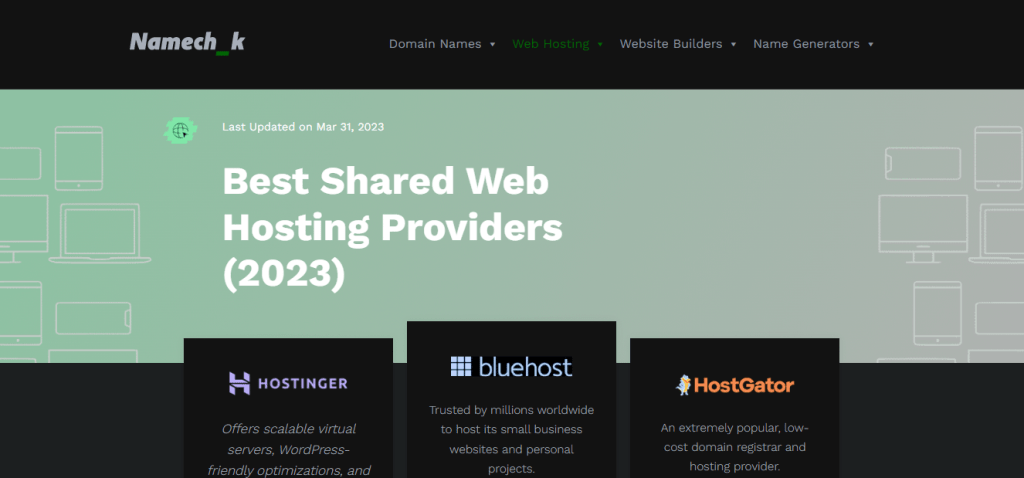 Namechk is a tool that allows users to search for the availability of a username or domain name across multiple social media platforms, websites, and domain name registrars. It is a simple and effective way to save time and effort when establishing an online presence.
Namechk is incredibly easy to use. Users simply enter the username or domain name they want to check into the search bar, and Namechk will generate a list of results showing whether that username or domain name is available or already taken across various platforms.
Namechk can help individuals, businesses, and organizations with branding and online presence. Using Namechk, users can ensure that their usernames and domain names are consistent across different platforms, making it easier for their audience to find and recognize them.
Namechk also provides users with a range of helpful information, such as the availability of domain extensions, the date of creation of social media accounts, and the expiration dates of domain names. This information can be used to make informed decisions about which platform to use or which domain extension to choose.
Main Features:
Search: Namechk provides a search bar where users can input a desired username or domain name. The application will list all available usernames or domain names across multiple platforms.
Platform Coverage: Namechk supports many social media platforms, including Facebook, Twitter, Instagram, LinkedIn, YouTube, and many more. It also checks the availability of domain names and the use of the desired username as an email address.
Domain Name Search: Namechk can also search for the availability of domain names across various domain name registrars, making it easy for users to find and register a domain name.
Social Media Handles: Namechk provides users with the availability of the desired username as a handle or account name across various social media platforms.
User Account Monitoring: Namechk offers a premium service that allows users to monitor their username or brand name across different social media platforms, domain names, and online services. This helps users to protect their brand identity and online reputation.
Customization: Namechk allows users to customize their search results by selecting specific social media platforms, domain registrars, and other online services to search across.
Price: Based on consultation.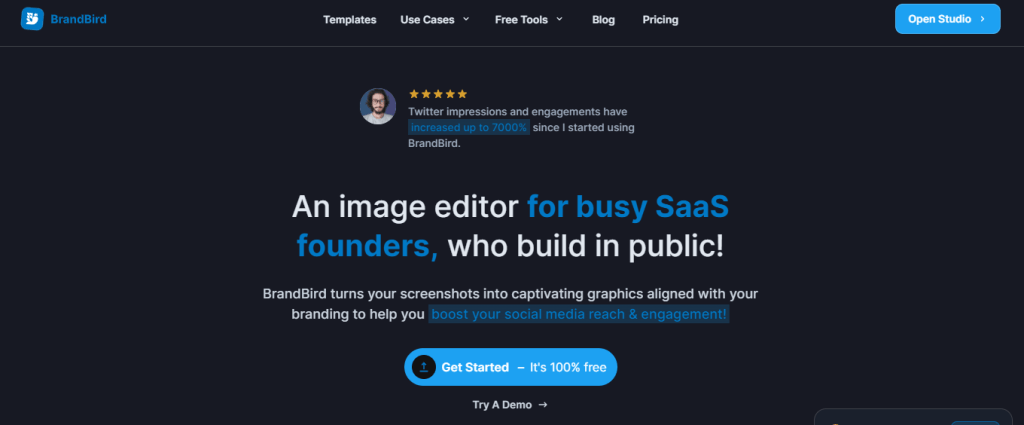 BrandBird is an online tool designed to help individuals and businesses create high-quality graphics for social media. It uses artificial intelligence and machine learning algorithms to analyze the colors, fonts, and other design elements of a brand's existing assets, such as its website or logo. It generates custom graphics that are aligned with the brand's visual identity.
To use BrandBird, users simply upload a screenshot of their website or a similar image. The platform automatically generates a set of graphics that can be used on social media platforms like Facebook, Twitter, and Instagram. These graphics are designed to be eye-catching, engaging, and optimized for each platform's specific image requirements.
BrandBird offers a range of customization options, including the ability to change colors, fonts, and other design elements. Users can also add text, logos, or other branding elements to further personalize the graphics.
Main features
Customizable Templates: BrandBird offers a wide range of customizable templates that users can choose from based on their specific branding requirements.
AI-Generated Designs: The tool uses artificial intelligence to generate designs based on a user's branding assets, such as their website or logo.
Social Media Integration: BrandBird is integrated with major social media platforms like Facebook, Twitter, and Instagram, making it easy for users to share their graphics directly on these platforms.
Customizable Design Elements: Users can customize various design elements, such as colors, fonts, and layouts, to create unique graphics that reflect their branding.
Performance Analytics: BrandBird provides analytics and performance metrics to help users track the reach and engagement of their social media posts.
User-Friendly Interface: The platform has a user-friendly interface that makes it easy for even non-designers to create visually appealing graphics.
Multiple File Formats: BrandBird allows users to download their graphics in multiple formats, such as PNG, JPG, and PDF.
Collaboration: Users can invite team members or colleagues to collaborate on design projects within the platform.
Price: Starting from $10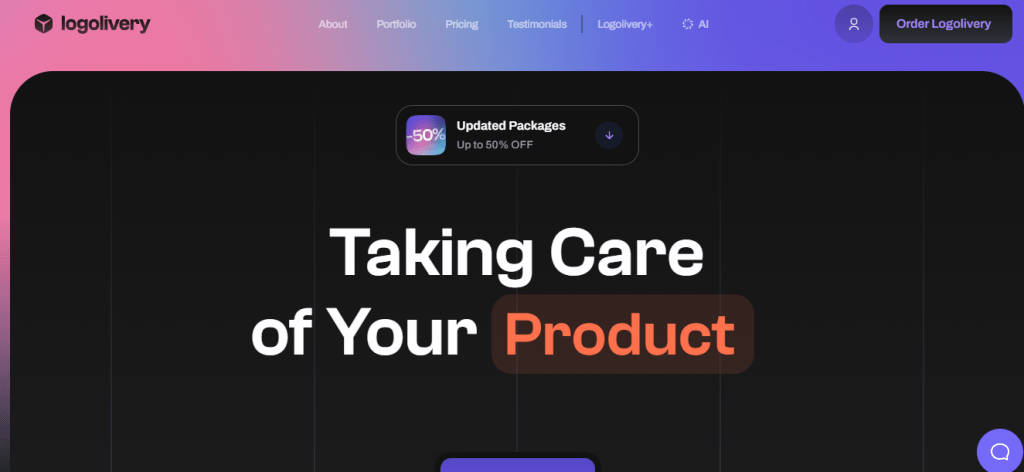 Logolivery is a design agency specializing in creating logos and visual identities for businesses, organizations, and individuals. The agency was founded to provide high-quality, affordable logo design services to clients worldwide. They have a team of skilled designers dedicated to creating unique, visually appealing logos that accurately represent their client's brands.
Working with Logolivery begins with a consultation to discuss the client's goals, preferences, and brand values. From there, the designers will create a set of initial logo concepts for the client to review. The client can then provide feedback and request revisions until the final logo design is perfect.
Logolivery's design process creates simple, memorable, and timeless logos. They believe a good logo should be easily recognizable and stand the test of time, regardless of trends or fads. The agency's portfolio showcases various logo designs, from minimalist and modern to more complex and illustrative.
Logo design services: Logolivery creates unique, custom logos for businesses, organizations, and individuals. They have a team of skilled designers who work closely with clients to create logos that accurately represent their brand values and appeal to their target audience.
Brand identity development: Logolivery offers brand identity development services besides logo design. This includes creating a consistent visual identity for a brand across all marketing materials, such as color schemes, typography, and imagery.
Social media graphics: Logolivery can also design custom graphics for social media platforms, such as Facebook, Twitter, and Instagram. These graphics can help businesses and organizations maintain a consistent visual identity across all online platforms.
Website design: Logolivery also offers website design services, creating custom designs optimized for desktop and mobile devices. This can help businesses and organizations establish a robust online presence and engage with their target audience.
Affordable pricing: Logolivery offers its services at an affordable price point, making them accessible to small businesses and individuals. They offer several packages that include multiple design services for clients who need a complete visual identity package.
Timeless and memorable designs: Logolivery's design process focuses on creating simple, memorable, and timeless logos. They believe a good logo should be easily recognizable and stand the test of time, regardless of trends or fads.
Pricing: Starting from $45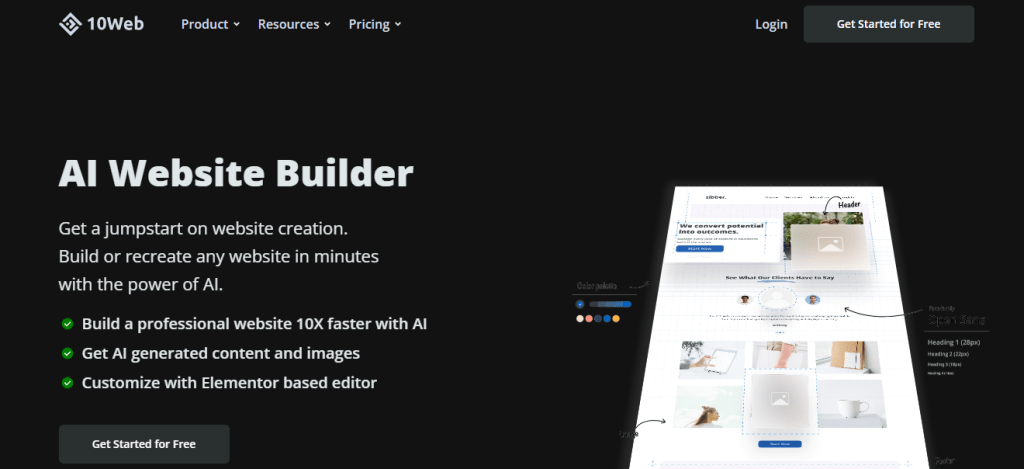 To automatically construct a website with original text and images that meet the needs of your business, utilize the 10Web AI Website Builder. You only need to answer a few questions about your company's name and services. The website will include padding around the content parts and customizable sliders and forms.
Key features:
AI-generated graphics and material tailored to your company's requirements.
Insert the URL of the web page you want to reproduce to construct your preferred landing page automatically.
Elementor-based drag-and-drop editor with user-friendly UI.
Pages automatically inherit the aesthetic and design components from your homepage to ensure consistency.
Total control over the alterations and customizations made to the website produced by our AI Builder.
Pricing: Starting from $10/month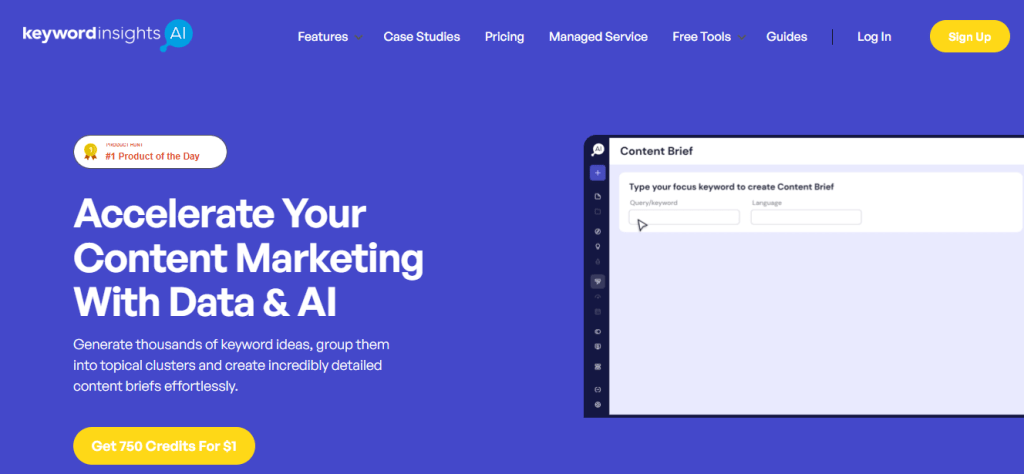 A potent AI content marketing solution for automatically generating keyword ideas, clustering them, and preparing content briefs. For small companies, content producers, and marketers that wish to enhance SEO and their marketing efforts, Keyword Insights is the ideal AI marketing solution.
Key features:
Determine the purpose of the keywords.
Keyword grouping.
Make thorough content summaries.
Find chances for internal connecting.
Identify the cannibalization of keywords.
Determine any content gaps.
Pricing: Starts at $49/month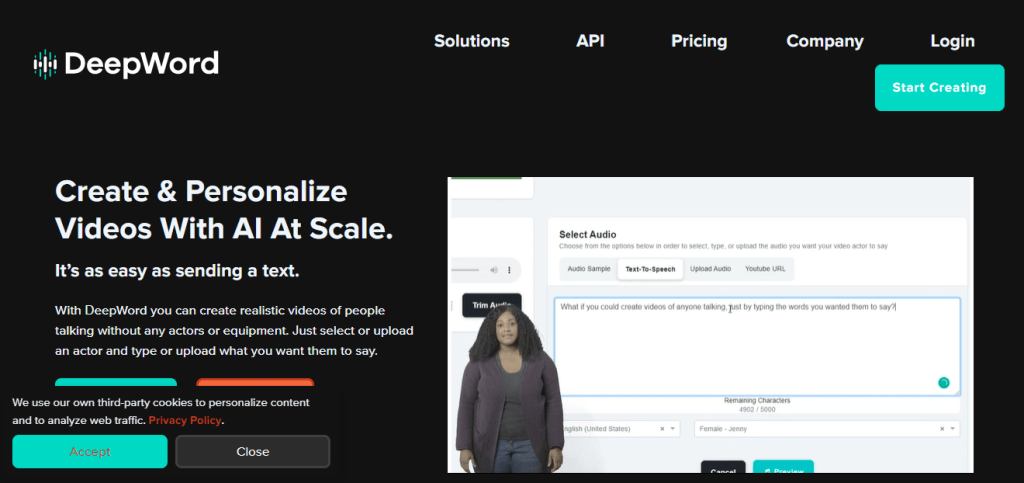 You may use the AI-powered DeepWord platform to produce realism-based AI video marketing material quickly. This AI marketing tool can also assist in turning plain text into movies, producing them in various languages, and making it simple to download or distribute them as social media advertisements.
Key features:
Spend less on pricey performers or equipment.
Personalize videos quickly.
Access to more than 140 dialects, languages, and voices.
Make commercial videos that are deeply phony but believable.
Utilize captivating videos to engage with your audience.
Pricing: Starting from $14.99/month.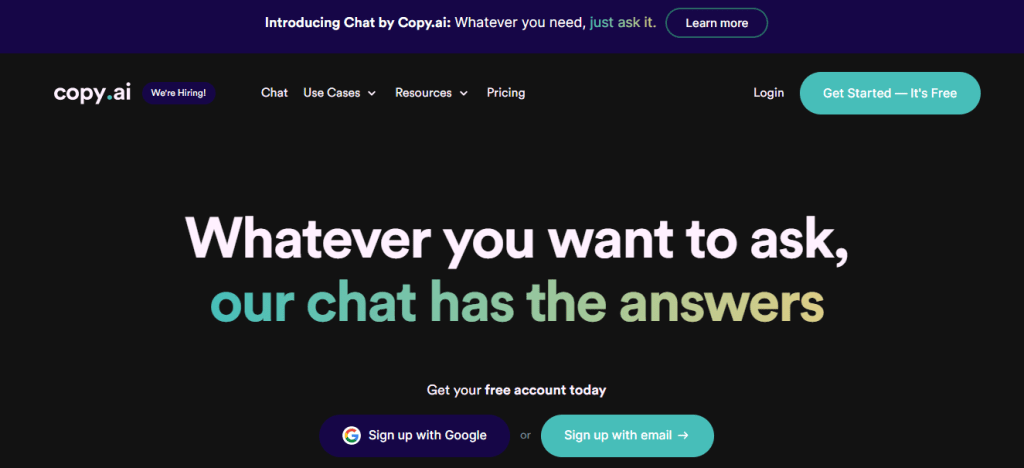 One of the top artificial intelligence (AI) tools for marketing and copywriting helpers, allowing you to construct marketing campaigns and sales copy using flawlessly crafted templates.
Key features:
Create blog material that is SEO-friendly.
Create compelling advertising copy in a few simple clicks.
Create social media content that is intriguing.
Use AI to write more effectively and quickly.
90+ AI marketing tools and templates are available.
Pricing: Starting from $49/month.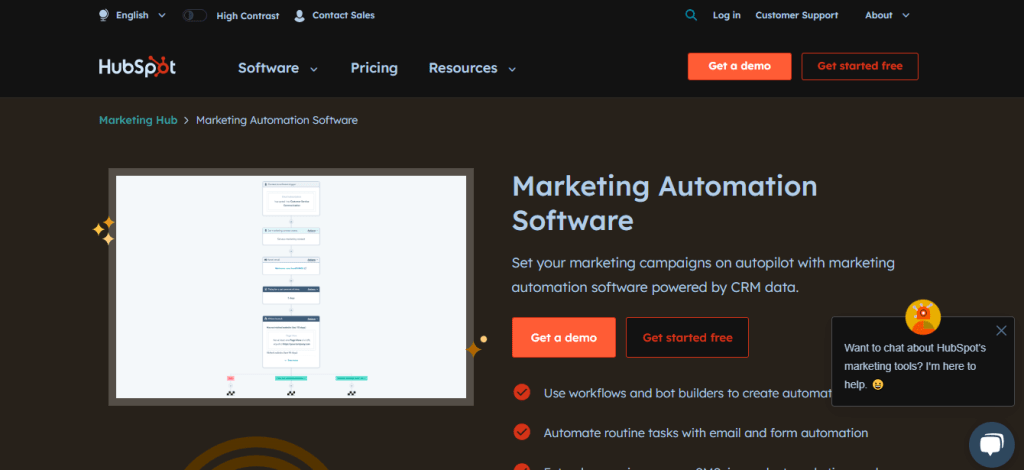 It is a comprehensive AI marketing automation technology that offers capabilities that enable companies of all sizes to automate recurring operations like email marketing, social media posting, and ad campaigns.
Key features:
You can construct effective automated emails with bot builders.
With ease, create complicated and focused processes.
Email campaigns that are automated and include several triggers.
Automate everyday chores other than email, such as CRM task reminders.
Integrations that let you run campaigns automatically across various channels, including chat, advertisements, the web, and more.
Pricing: Starting at $45/month for the starter plan.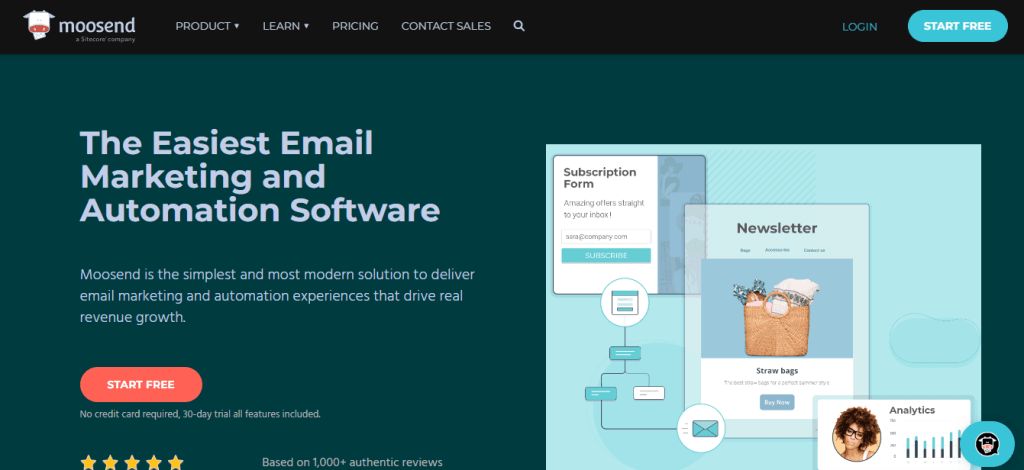 Modern email marketing automation software MooSend has capabilities appropriate for both small and large enterprises. MooSend offers a variety of marketing automation capabilities to enhance your lead-nurturing approach and get the most out of your email marketing plan.
Key features:
The audience segmentation function helps you better understand your audience by grouping people based on similar traits.
Automated onboarding processes, such as welcome emails sent automatically to new subscribers.
The automated product gives personalization for your leads.
When a consumer makes a purchase, they automatically send them thank-you emails.
Automated emails to remind customers to finish their carts.
Pricing: Starting at $9/month.

As an AI chatbot, ManyChat is a potent AI marketing tool that enables companies to automate the repeated queries they frequently have to respond to from prospects across numerous channels. This enables you to interact with leads and provide them with individualized help via direct communications.
Key features:
You may offer instant assistance through WhatsApp, Facebook Messenger, Instagram direct messaging, and chat automation.
During conversations, take notes of phone numbers and emails and preserve them.
You may expand your audience by using automated communication campaigns.
Automating user engagement with comments.
Discussion starters that are automated and answer frequently requested questions.
Pricing: Starting from $15/month.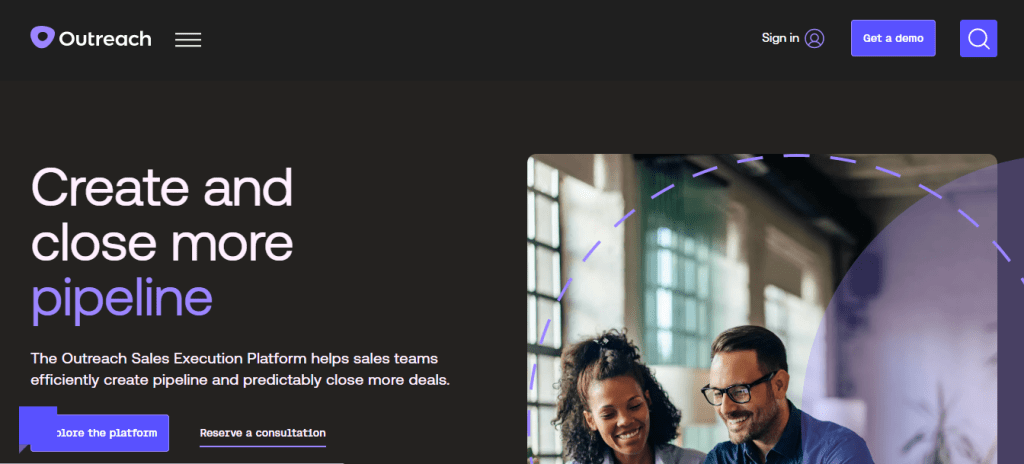 A sales platform with feature-rich AI marketing capabilities will enable your sales staff to manage sales pipelines effectively and increase revenue. Sales representatives and management may use Outreach to engage prospects, monitor pipelines, predict, and examine offers by utilizing AI intelligence.
Key features:
You may extend relationships and connect with the correct prospects thanks to pipeline generation.
Information about revenue that helps sales teams manage deals and execute better.
Outreach, An AI-powered assistant named Kaia enters meetings and assists groups.
Authentic sales statistics and pipeline analysis to help sales representatives make wise choices.
Consistency is ensured by automated forecasting throughout your sales representatives and teams.
Pricing: Based on consultation.
In conclusion, by leveraging the power of AI, brands can stay ahead of the curve and better connect with their target audience in an increasingly competitive marketplace. It is clear that AI tools for branding are here to stay, and businesses that embrace them will have a significant advantage in the coming years.