Wondering how to run TikTok ads? You're at the right spot! TikTok is increasingly becoming a social media behemoth. TikTok is a promotional goldmine, with over a billion subscribers.
Also, it contains various trends, providing excellent potential for advertising for many businesses. Who knew how effective a well-executed lip-sync video could be?
Well, if you are yet to figure out how to run TikTok ads, you're not alone. Fortunately, we are here to assist! Let's get this party started! However, before we talk about how to run TikTok ads, let's delve into the type of ads available on the platform.
Types of TikTok Ads
TikTok gives you various ways to promote your content, product, or brand on the app. As a result, you may select a type that will reach your target audience better and convey your message. The TikTok advertisements platform allows you to run the following adverts:
Brand Takeover
This form of ad lets you control the conversation by taking over the entire screen for a few moments. It then becomes an in-feed video ad.
In-Feed Video
These are advertisements that display in TikTok users' native news feeds on the "For You" section.
Spark Ads
TikTok launched this ad kind in 2021, allowing advertisers to promote popular organic content related to their offerings.
Image Ads
Brands may add image advertising in videos that display on TikTok's BuzzVideo, TopBuzz, and Babe.
Video Ads
These advertisements are full-screen clips that last 5 to 60 seconds and appear in a user's "For You" feed.
Pangle Ads
Pandle's video platform interfaces with TikTok to provide video, native, and banner advertisements, but only in certain regions.
Carousel Ads 
These ads contain up to ten photos and they disappear from play in TikTok's news feed applications.
Branded AR Content
Your advertisements can also show branded stickers, glasses, and other sorts of AR material that TikTok viewers can utilize in their movies.
Hashtag Challenge
This form of ad appears in the platform's "Discovery" section and might stimulate user interaction.
Sponsored Influencer Content
When using sponsored material from a well-known TikTok user, you may effectively communicate your message through this sort of TikTok marketing.
How To Run TikTok Ads
It is very flexible to run TikTok ads. However, to accomplish your goal, you can precisely target your audience. Let us go deeper into the stages of TikTok ads.
Step One: Set Up An Ad Account
First, go to TikTok for business and tap 'create now."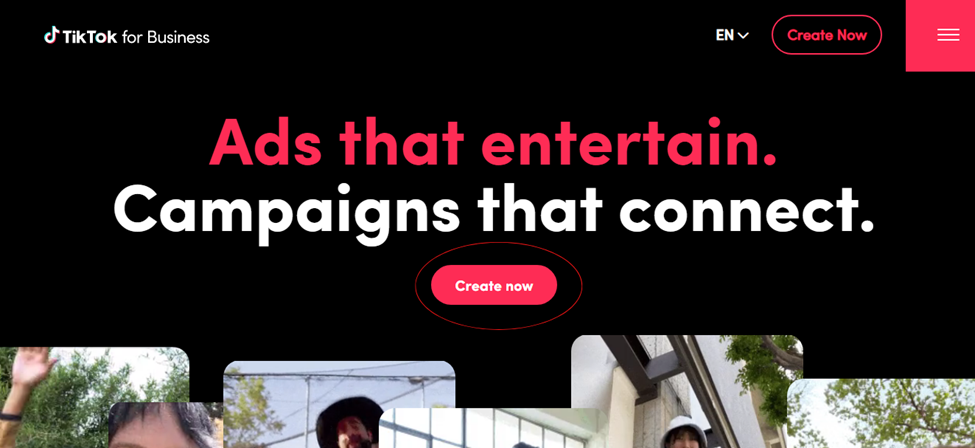 Then, fill out the registration form with all your personal information. You may register for TikTok business using either your mobile number or your email id; the option is yours.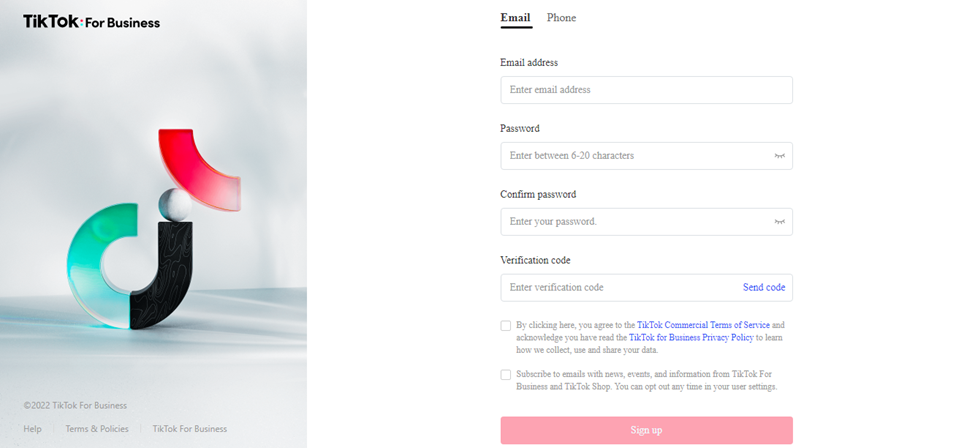 Set up an account by choosing your country, business name, phone number, time zone, industry interest field, and currency.
Then describe the company. Also add the URL of the website, the firm address, and the Tax ID.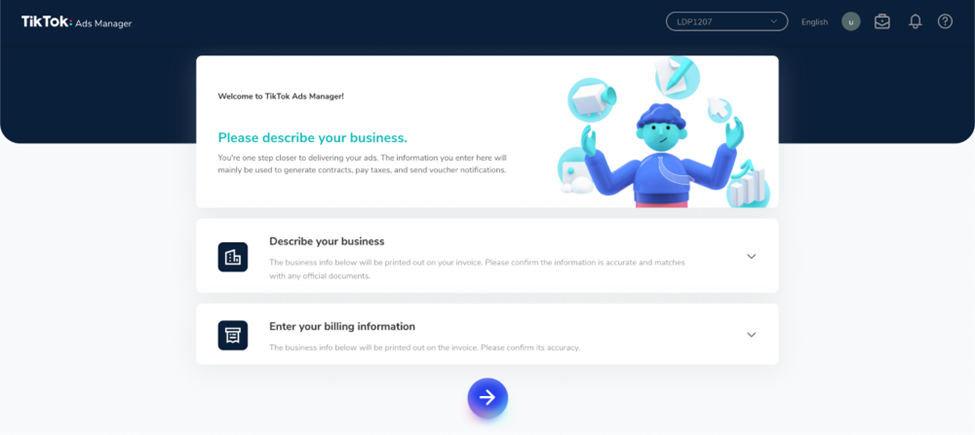 Next, choose the Ads Manager that best matches your company's requirements. Tap Custom Mode to have access to a variety of options.

Step Two: Create A Campaign
You may now set up a campaign. The settings are defined in the advertising cabinet, which has a streamlined or personalized interface. Then, in the settings, pick the bidding strategy. It will affect both the outcome and the advertising expenditure.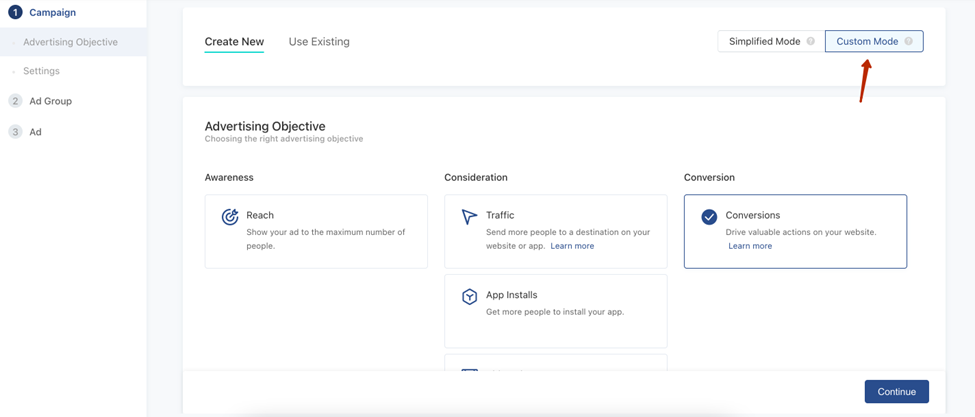 Now, you can specify the reason for launching the ad. Some of the reasons for launching an ad on TikTok are;
Awareness: The "Reach" aim is included in the group. So, display your ad to as many people as possible.
Consideration: It consists of four goals.
● Traffic: It is ideal if you want as many visitors as possible to visit your website or app.
● App installs: It is great if you need a huge number of conversions.
● Video views: It is important to configure the system to broadcast the video to the largest number of people possible.
● Lead generation: This is the best option if you want to acquire contact information from TikTok users.
● Interaction within the community Excellent if you want more followers or page visitors.
Conversion: Conversions are the same aim as in the first group. The primary goal is to get specific activities on the site. Install TikTok Pixel on the site to create a campaign with this aim. This is how the system gathers data, tracks conversion, and optimizes campaigns.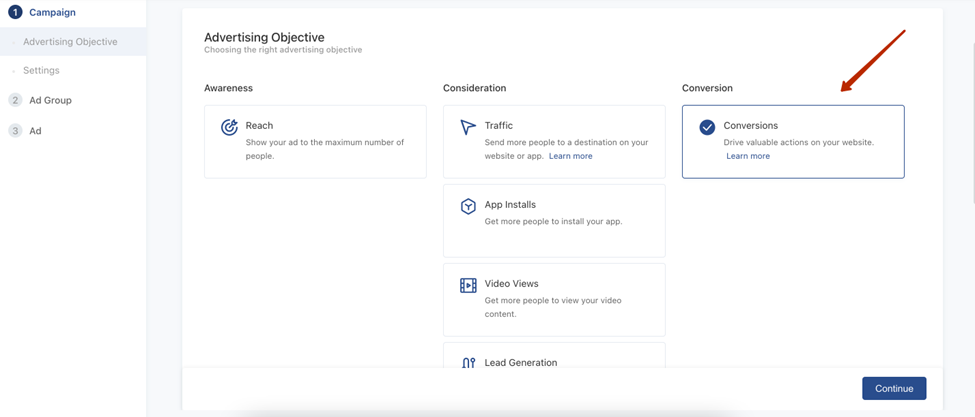 Where Can You Get Ideas For Your TikTok Marketing Campaign?
You'll never run out of ideas on TikTok! The platform is so vast that fresh ideas will always be a swipe or two away.
So, visit the TikTok app to hunt for ideas! Search for a few competitors and watch their most current videos. Do you see any trends? Which videos are popular?
In addition, TikTok trends might provide ideas. Discover what's trending on TikTok at that moment. Is there a popular tune that everyone uses? What about some amusing soundtrack or an amazing special effect?
You can leverage this common format and keep your business in the limelight by adding your unique twist to an established trend.
How Much Does It Cost To Run TikTok Ads?
For you to run TikTok ads, you must have a fixed minimum and overall budget of $50 at the campaign level. And your daily budget for an ad group level must be greater than $20. Though, TikTok has not disclosed its pricing strategy for advertising.