Are you looking to build a website but don't have the technical know-how to code it from scratch? Artificial intelligence (AI) website builders might be your perfect solution. These tools leverage the power of AI and machine learning algorithms to help you create stunning websites optimized for performance and user experience.
With so many options available, choosing the right one for your needs can be overwhelming. That's why we've put together this blog post to help you discover the 12 best AI website builders on the market.

Whether you're a small business owner, blogger, or entrepreneur, these tools can help you build a website that looks great, functions well, and provide you with a database that can, in turn, help you target your marketing newsletter to your direct customers/audience. So, let's dive in and find the perfect AI website builder for you.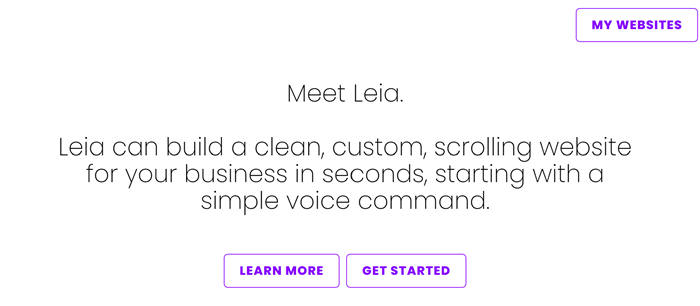 Leia is the finest option if you're seeking an automatic website builder. Leia website builder uses artificial intelligence to create a website in a matter of minutes. You may tell this AI website builder your preferences by answering numerous questions. This will allow you to receive a more accurate recommendation. It is also feasible to make minor changes, albeit some capabilities are not available to free users.
Pros:
AI may be used to create websites automatically.
A fantastic option for newcomers and those who are unfamiliar with the process of creating a website from the start.
Enabling you to create bespoke designs
Cons:
Not appropriate for experts
Price: Free & Paid ($4.17/mo)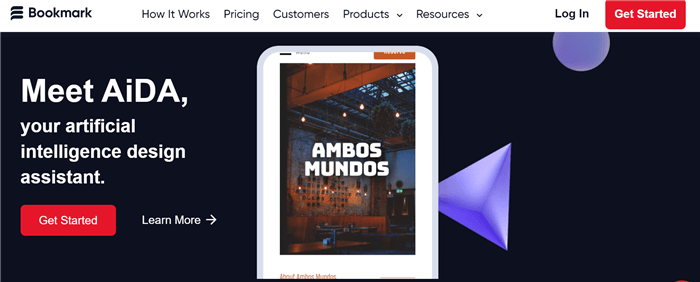 AiDA (Artificial intelligence design assistant) is a website builder that promises to be able to create a company website in under two minutes. Bookmark AI website builder, which is based on patented machine learning algorithms, can automatically create a website with design styles that are consistent with your brand. If you're looking for a simple solution to help you construct a website quickly, Bookmark AiDA is worth a look.
Pros:
Easy website creation
Using machine learning techniques, make intelligent recommendations
No coding or design expertise required
No cost hosting
Cons:
The paid plan is average.
Price: Free & Paid ($14.99/mo)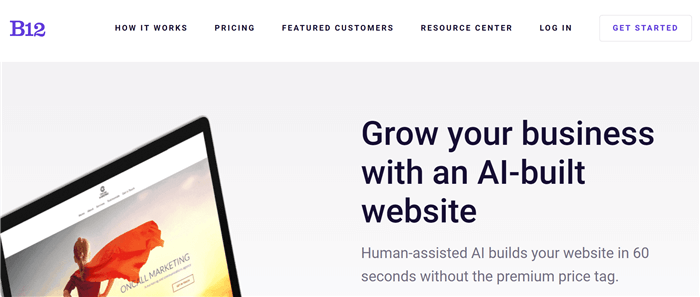 B12 is an AI business website builder that distinguishes itself from competitors by mixing AI with human specialists. This best online website builder use AI to generate a basic website, after which you may make adjustments based on smart recommendations. B12 also allows you to create your own website using CSS and HTML.
Pros:
Suitable for both rookie and experienced users.
Construct responsive webpages for mobile devices.
Simple to use
Cons:
Its pricing is greater than those of its competitors.
Price: $24/month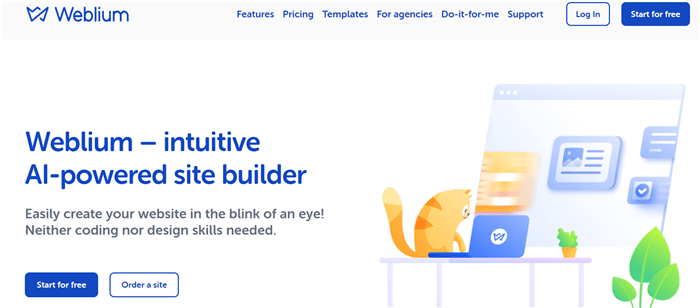 Weblium is an AI website builder with an easy-to-use UI. It does not require any coding or design knowledge. You may utilize it to create responsive websites that match your brand rapidly. This is one of the most user-friendly website builders. There are over 250 templates available to assist you in managing hosting, domains, SSL security certificates, and other technical issues.
Pros:
Free users get unlimited storage space.
Generous no-cost plan
One of the most affordable website builders
Cons:
Not appropriate for professionals.
Price: Free & Paid ($8.25)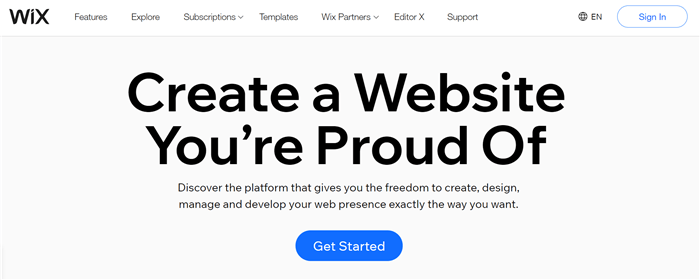 Wix Website Builder provides two versatile options for creating a website. You may develop a website using its finest DIY website builder or leave it to its AI website builder. Wix Artificial Design Intelligence, or Wix ADI, is the most user-friendly AI-powered website builder. It simplifies the entire website creation process, and answering a few questions is all that is required before you see your website developed.
Pros:
An AI website builder can automatically generate a website depending on your preferences.
Flexible methods for creating a business website
One of the most effective eCommerce website builders
Cons:
There is no limitless storage for both free and premium customers.
Price: Free & Paid ($12.5/mo)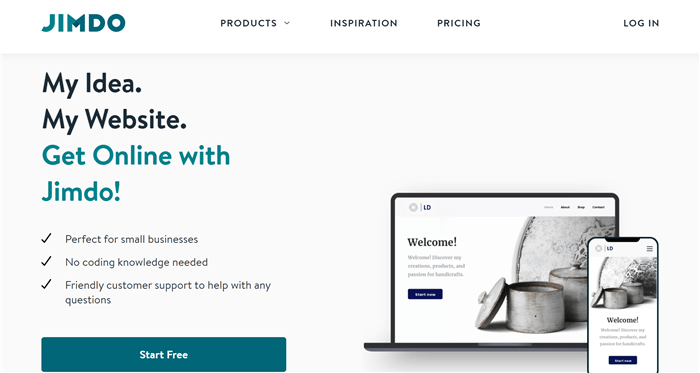 Jimdo allows you to build a website in two ways. You can either use its AI website builder Jimdo Dolphin or the original tool to start from scratch. Jimdo Dolphin, like other AI website builders, is an easy-to-use but equally useful tool for building functional websites. No code skills are required.
Pros:
Create a website in a matter of minutes.
Give HTTPS security to all plans, including the free one.
Provide the finest DIY website builder Cons: Few template options
Price: Free & Paid ($9/mo)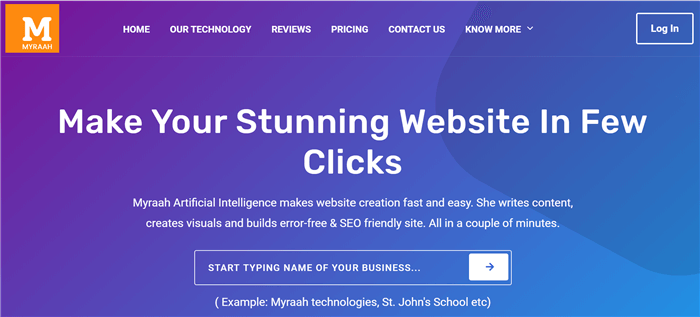 Myraah is an AI website builder that use deep learning algorithms to assist in the creation of flexible websites. Based on the information you give, such as your company name or logo, our website builder can create unique websites for you in a matter of minutes.
Pros:
Build a responsive website.
User-friendly interface
Cons:
Paid customers have limited storage space.
Price: Free & Paid ($28.56)
8. Site123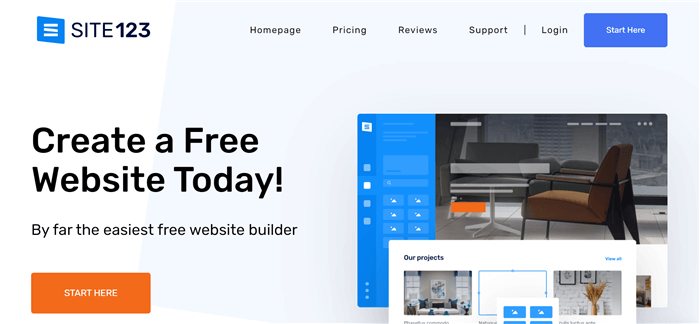 An automated website builder that deserves to be on our list is Site123. Site123 makes it incredibly simple to create a website, while not identifying itself as an AI website builder. On the simplest website builder, you can create mobile-friendly websites without even using drag and drop. Simply upload the content and select the layouts you prefer.
Pros:
Create a simple website by responding to a few questions
Elegant design and top-notch templates
Most affordable website builder that provides a free domain
Cons:
AI advice is not as intelligent as its competition.

You may use the adaptable WordPress website builder for free. This website builder tool may be used to construct blogs, online shops, or small company websites. But for beginners, this is not the best option. Although you don't have to be an expert coder, it will be much simpler if you know a little bit about HTML and CSS.
Pros:
Free to use
creator of self-hosted websites
reliable use
Cons:
Not appropriate for newcomers
Price: Free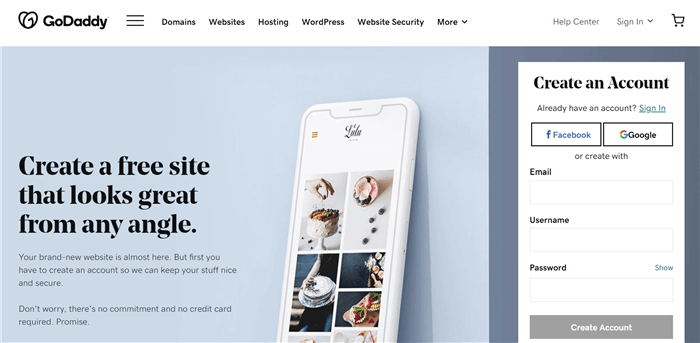 You may create a website with GoDaddy's free builder by dragging and dropping elements onto the page. Sections, photos, phrases, and menus may all be changed to create a design that is suitable for your requirements. The fact that the GoDaddy website builder provides free user SSL certificates to keep your site safe is fantastic.
Pros:
Favourable for small businesses
Post as soon as you're done.
Detailed features and extras
Cons:
Price: Free & Paid ($9.99)
Weebly has a wide range of built-in features and an above-average number of generous free options, making it one of the best website builders for small businesses. With this eCommerce website builder, you can simply modify web designs and enhance your online store, even on the free plan, by adding a shopping cart, coupons, or gift cards.
Pros:
Benefits: One of the simpler website builders
Mobile-friendly responsive websites
Cons:
Price: Free & Paid ($6/month)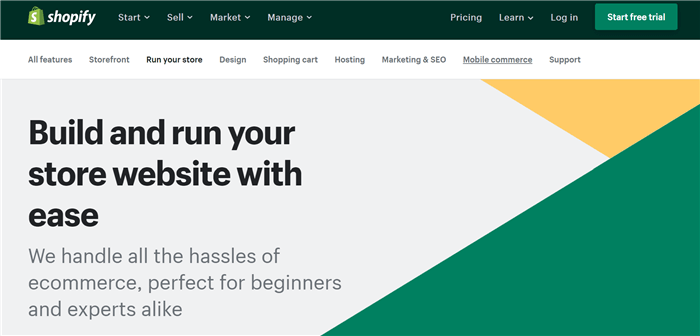 The Shopify website builder makes it simple to create a responsive online store. It is simple to use. With its cost-effective options, you don't need to create an endless budget. You have access to 170 themes and a wide variety of contemporary-looking designs. The one-stop shop for website construction is this eCommerce platform.
Pros:
Top website builder for small businesses
Adaptable tool
Create mobile-friendly websites.
Cons:
The templates are rather old.
Price: Free and Paid ($26/mo)
Conclusion
A strong website may increase the credibility of your personal brand over a simple social media presence.
You can build your brand and possibly increase traffic and revenue. Most AI website builders in this evaluation, such as Leia and Bookmark, assert that IT experts and laypeople can use them. Do they, however, live up to the hype? Most likely not. They work better with the latter.
Professional designers can develop attractive websites with the help of tools like Dreamweaver. You can read the previous post on How to build a logo using Wix Logo Maker if you are at the beginning of your business and need a logo for your brand.