Embracing the power of AI productivity tools to enhance your work, particularly in the realm of presentation creation, can be a transformative and highly beneficial endeavor. In today's fast-paced and technologically advanced world, leveraging intelligent tools that harness the capabilities of artificial intelligence can significantly elevate the quality, efficiency, and impact of your presentations.
These tools can assist you in streamlining various aspects of the creative process, from designing visually captivating slides to generating insightful content and even refining your delivery skills. By incorporating AI into your workflow, you can unlock many advantages, such as saving time and effort, fostering innovation and creativity, and ultimately, captivating and engaging your audience more profoundly.
Whether you're a professional, a student, or an entrepreneur seeking to make a persuasive pitch, harnessing the potential of AI will undoubtedly equip you with a competitive edge and help you leave a lasting impression in today's dynamic and demanding business landscape. This article will discuss the top 12 AI tools that can take your presentations to the next level and make your content more impactful and memorable.
How can you benefit from using an AI presenting tool?
You can quickly build designs by entering text into their feature or platform.
Professionals can include these presenting tools in business applications like Microsoft Teams and Slack.
An AI presenting tool can help you sell your product and services using the right sales storytelling images.
Your presentation can easily use your brand assets, such as your logo, colors, and fonts, to make it uniform.
Before the big day, teams may collaborate on a single platform to further refine a presentation.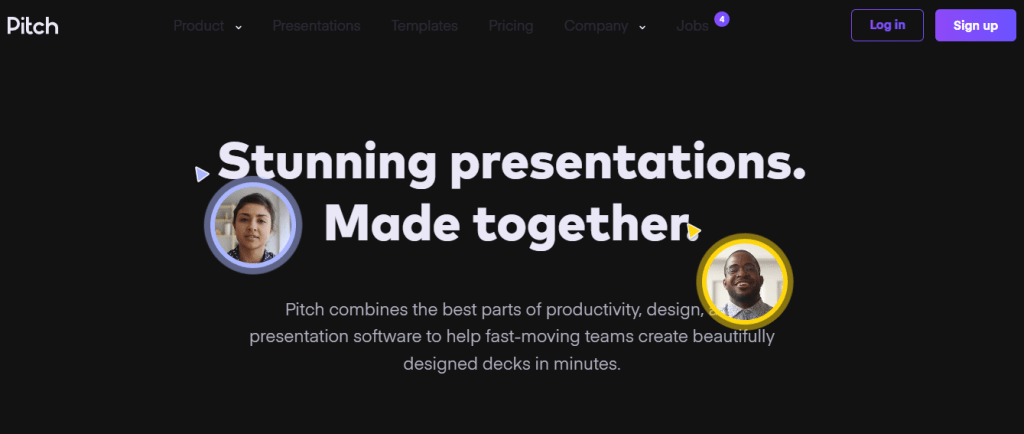 One of the most used presenting tools on the market is called Pitch. You can create new presentations from scratch or use one of their beautifully designed templates here. The presentation maker's AI component is restricted to editing and cropping, providing the user with complete control over most of its features.
Pricing:
Beginner – Free
Pro – $8 monthly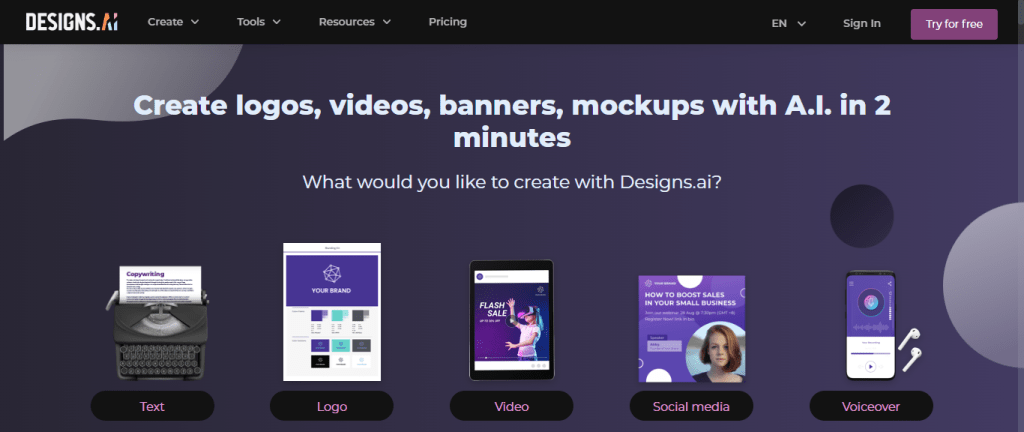 Businesses and professionals may benefit from Tome, a website that generates AI presentations. It draws text and graphics from ChatGPT and DALL-E 2, making it a hybrid. Users just need to utilize normal language to express what they want in the presentation, which makes the prompts for Tome extremely simple. The tome will produce about eight slides with the appropriate photos and phrases in response to the question. The website now provides users with a wide selection of templates to choose from.
Users may now rapidly construct narrative outlines for presentations from scratch with the help of Tome's generative storytelling technology. In addition to page content and layouts, the program will also provide clever and appealing names for each slide.
Pricing: Starting at $1,000 per month
SlidesAI.io has you covered whether you're delivering a lecture, a sales pitch, or a presentation at a conference. Select the general, instructional, sales, or conference presentation type, decide how many slides there will be overall, and then leave the hard work to our AI-powered tool.
The most efficient way to create slides is using SlidesAI.io, which automates the procedure and frees up your time to deliver a stellar presentation. Additionally, our software is user-friendly and privacy-focused, requiring no technical knowledge.
Pricing: Free of charge with paid features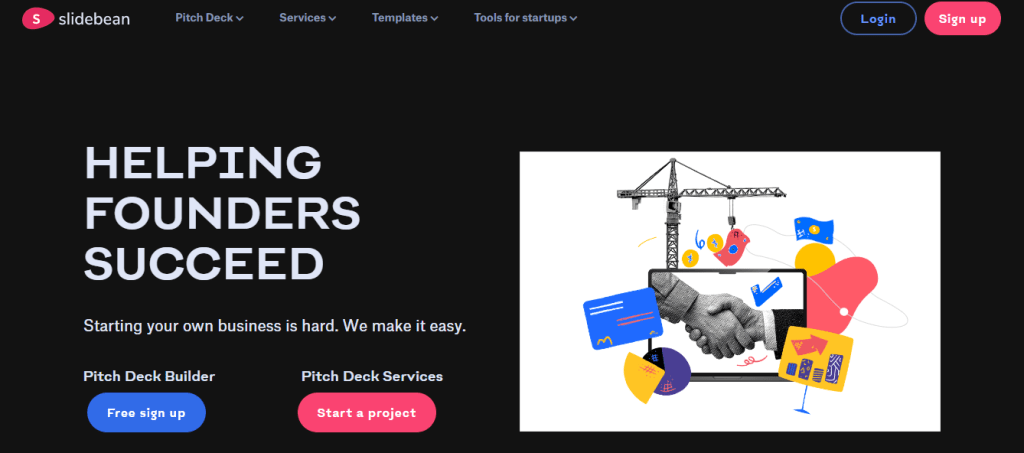 Another AI presentation tool for individuals who want their pitch decks and other business presentations to seem better is Slidebean. Slidebean features a "Arrange with AI" option that will show you many design options even if you create your presentation or utilize their design service.
Pricing:
Basic: Free All Access:
$29 per month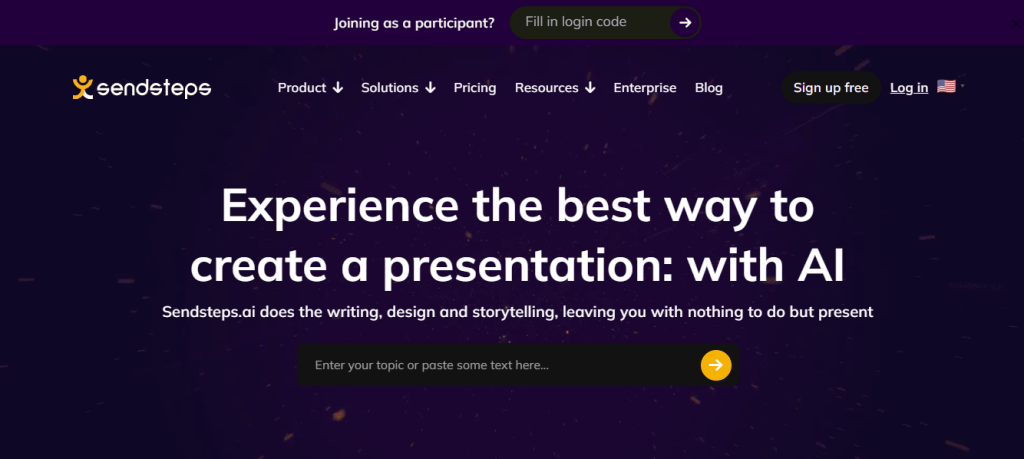 Sendsteps is an innovative audience engagement tool that allows presenters to create interactive presentations and meetings easily. With its wide range of features, Sendsteps enables presenters to increase engagement with their audience using tools such as quizzes, word clouds, Q&As, and more.
Whether your event is online, offline, or a hybrid of both, Sendsteps can be used to create an engaging and interactive experience for your audience. The platform is designed to be user-friendly, allowing presenters to easily create and customize their presentations, polls, and quizzes to suit their audience and their specific goals.
One of the key features of Sendsteps is its real-time feedback capability. This allows participants to ask questions, provide feedback, and respond to polls and quizzes instantly, which makes the event more engaging and interactive. The platform also includes a range of visual aids, such as word clouds and bar graphs, that presenters can use to display the results of polls and quizzes in a clear and easy-to-understand way.
Pricing:
Basic: Free All Access
Starting from $9.99per month

You can reduce your time making presentations, whether minutes or hours. There is no need to update or modify components manually. Beautiful AI can predict your next move with great intuition. Additionally, when presented to your audience or stakeholders, their AI may make your data appear more appealing and transparent.
In addition, Beautiful.AI is collaborative and enables team members to remark directly on slides rather than exchanging emails or using chat tools.
Key Features:
For your presentation, you have access to templates, a slide library, and millions of images and videos.
Adaptable themes
Narrative in voice
Collaborating and exchanging
Slack, Monday.com, Dropbox, and Powerpoint integrations
Pricing:
Pro – $12 per month (paid yearly)
Team: $40 per user each month (paid yearly)
Enterprise: Book a Demo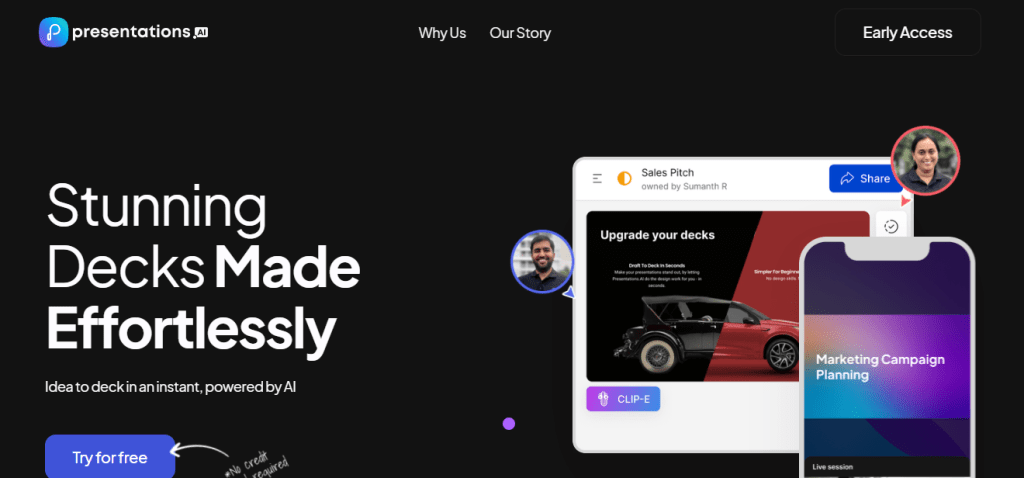 Using a robust presentation software and presentation AI, you may produce beautiful presentations in the shortest amount of time. A variety of tools in presentation software allow users to create eye-catching visuals in a fraction of the time it takes to create conventional PowerPoint decks. Professional presentation designers can transform even the most simple concepts into beautiful presentations that will astound any audience. They may use high-resolution photographs and graphics, simple-to-use templates, and customized layouts. And these tools are now more available than ever thanks to modern technological developments! You may create a stunning deck that will wow clients and coworkers with only a few mouse clicks. You only need to set up your workplace and you're ready to start.
Pricing: Starter Currently FREE; Pro $399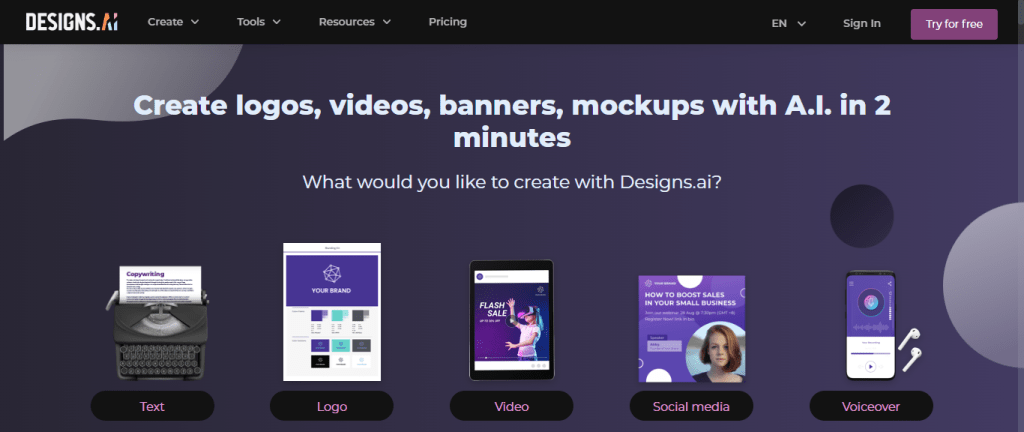 Designs.A program called AI is used to create graphics and is also used to create presentations. Design AI is at the top of our list because it can be used to produce speeches, presentations, and movies. Users may develop presentations based on AI using the Design creator tool.
A breakthrough new application for graphic design called Designs.AI may be used to make amazing presentations. Anyone may utilize this AI-powered tool, regardless of their background in or expertise of design. The program can automatically create a presentation with a professional appearance in a matter of minutes, and users can easily alter it with a few clicks.
Pricing: Free Trial Available; Basic 29$/Month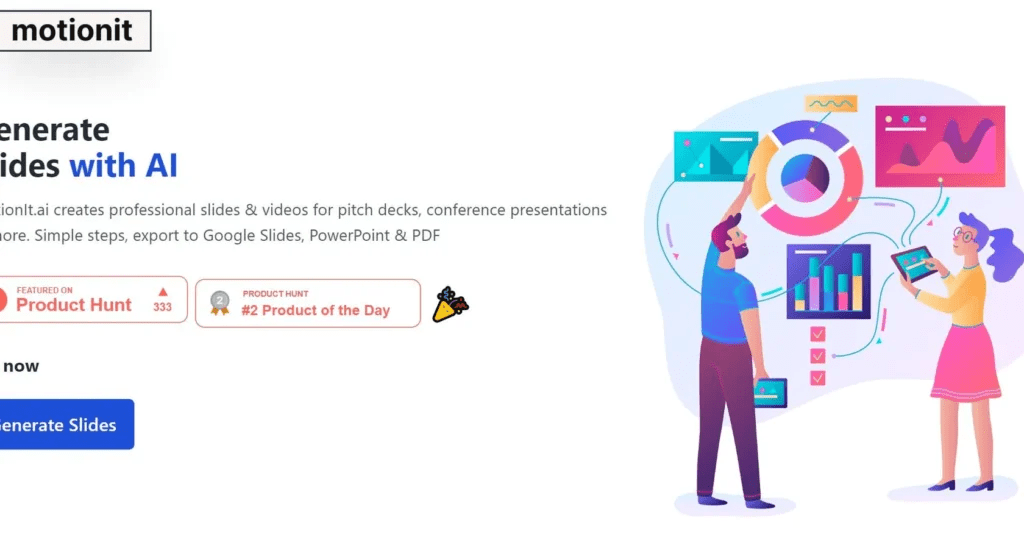 With its straightforward, user-friendly platform that enables you to make professional slides and videos for pitch decks, conference presentations, and more, MotionIt.ai is reinventing the presenting industry. It is now simpler than ever to produce high-quality images without needing to pay a professional designer thanks to this ground-breaking software. Simply upload your content, select a design template, change the graphics, and export it in a matter of minutes to Google Slides, PowerPoint, or another format of your choosing.
Pricing: 1 Side = 1$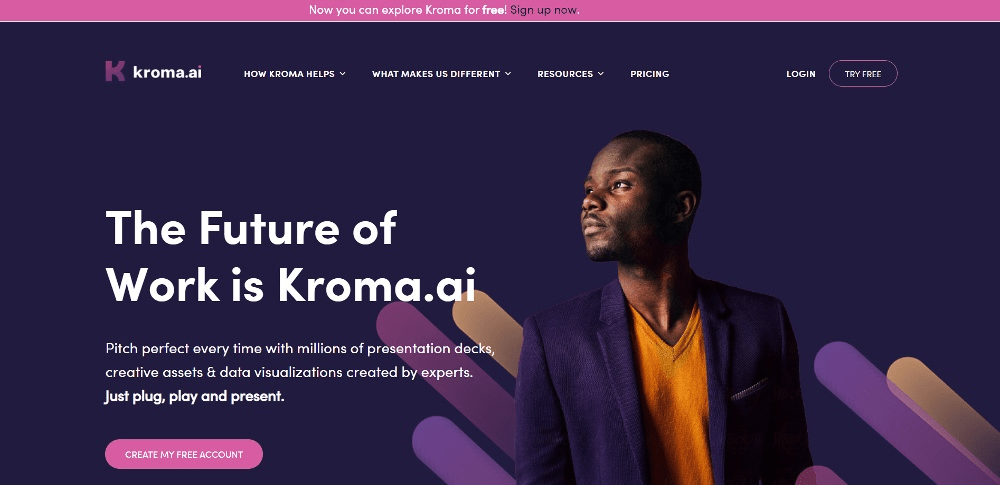 Anyone who wishes to create an impactful presentation should use Kroma.AI as their platform. With millions of well prepared presentation decks, creative materials, and data visualizations, Kroma.AI enables you to quickly and easily integrate any information into your current presentations.
Users of the AI-powered design tool have access to a vast collection of tools and resources that may assist them in swiftly producing polished, compelling presentations without compromising on quality or time. Kroma.AI guarantees that all material will be optimized for every device and display size by providing a selection of customisable themes and templates. Additionally, users using sophisticated analytics may monitor audience engagement levels inside their presentations to ensure their content is properly conveyed.
Pricing: Explorer-Free; Premium-49$/Month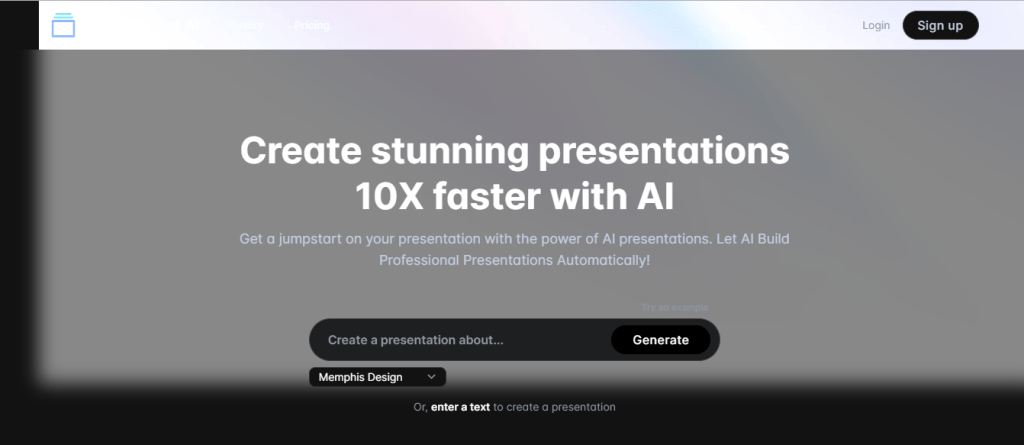 Making a fantastic presentation takes a lot of effort and time. But with Artificial Intelligence (AI) technology, you can now instantly produce stunning presentations! There are several other aesthetic styles available in AI, such as Low Poly, Cyberpunk, Surrealism, Anime, Realism, and M. With these tools at your disposal, it's simple to select the images that will enhance your presentation and tell an interesting tale to your audience.
By automating time-consuming processes like looking for photographs or graphics for slides, AI may help people save time. Simply input a word or phrase that describes how you want your pictures to appear, and the AI will quickly provide pertinent results! Additionally, it enables users to alter their images by their preferences, allowing them greater freedom in their job.
Pricing: 1$ pay as you go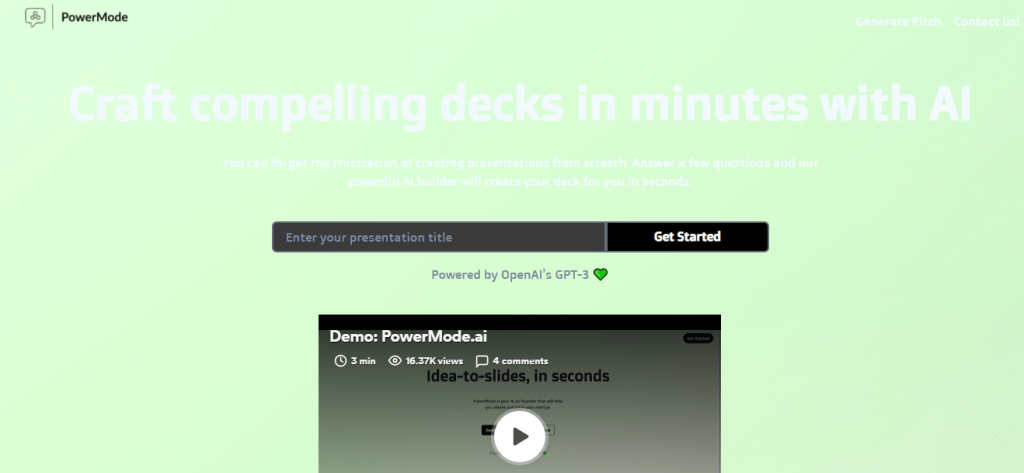 Startup culture is always evolving, and entrepreneurs work hard to remain on top of it. Enter PowerMode, a cutting-edge AI-powered co-founder who will aid with ideation and company pitching.
PowerMode is a flexible tool for company owners that offers users free ai presentation maker with individualized guidance on how to approach their venture to be successful. It provides free AI presentation templates with original insights based on data analysis and forecasting technologies that can be used to find the best market opportunities and winning tactics.
Price: Free
Gamma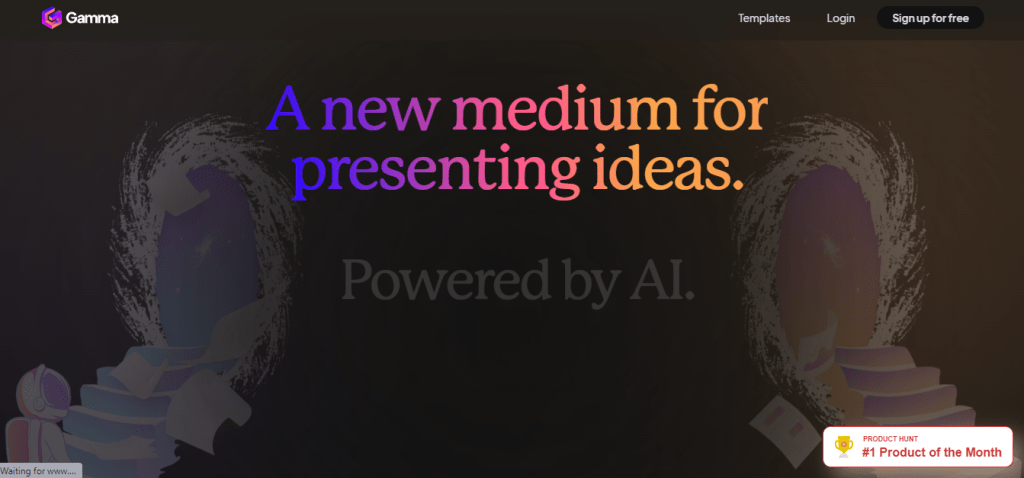 Gamma is a cutting-edge platform that offers a refreshing alternative to traditional slide decks. Designed to provide a fast and straightforward way to share and present your work, Gamma empowers users to create engaging presentations, memos, briefs, and documents that are easy to discuss live and share asynchronously.
One of the standout features of Gamma is its browser-based functionality, which eliminates the need for downloading or installing any additional software. Users can access the platform directly through their web browsers, allowing seamless collaboration and effortless sharing across teams and organizations.
The intuitive interface of Gamma enables users to craft visually appealing and interactive content effortlessly. Instead of relying solely on static slides, Gamma offers a range of dynamic elements that enhance the presentation experience. Users can incorporate videos, images, charts, graphs, and other multimedia elements to create compelling and impactful presentations that captivate their audience.
Key Features
Browser-based: Gamma operates entirely in the browser, eliminating the need to download or install additional software.
Dynamic and Interactive Presentations: Gamma offers a range of dynamic elements, such as videos, images, charts, graphs, and multimedia content, allowing users to create engaging and interactive presentations that captivate their audience.
Real-time Collaboration: Gamma facilitates real-time discussions during presentations, making it ideal for remote teams or geographically dispersed audiences.
Asynchronous Collaboration: Besides live discussions, Gamma supports asynchronous collaboration, enabling users to share their presentations and receive feedback and comments at their convenience.
User-friendly Editing Tools: Users can rearrange content, adjust layouts, and modify visual elements, ensuring the final product meets their desired aesthetic and messaging requirements.
Pricing: Currently it is Free
In conclusion, incorporating AI tools in your presentations can help you create visually appealing and engaging content that leaves a lasting impression on your audience. The six AI tools discussed in this blog offer various features such as design templates, animation, video creation, real-time polling, and data analytics that can enhance the quality of your presentations. Using these tools, you can streamline your presentation creation process and communicate your ideas effectively, making your presentations more impactful and memorable.