Subscribing to growth marketing newsletters to make you a more brilliant entrepreneur is a great way to stay updated on the happenings and latest trends in the world of business.
Getting the right newsletter that would benefit your line of business can be tricky since there are so many growth newsletters out there.
This is why we have compiled a list of some of the best newsletters you can select to help with your growth journey as a marketer.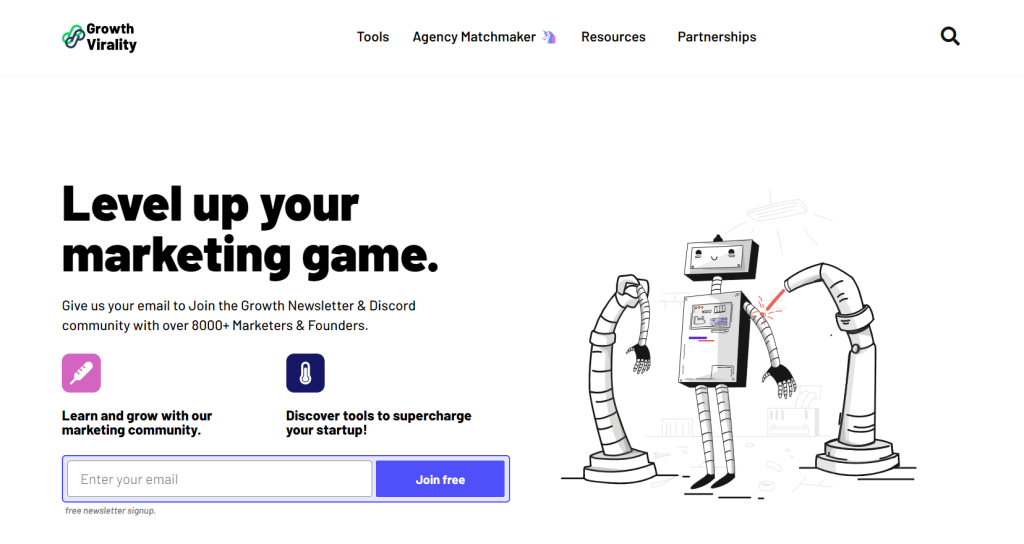 If you are looking for objective marketing tactics and strategies used by leading startups & Fortune 500's, our newsletter is the one.
Yes, we are bragging here and notably so since this is our article 👍 but we know you will love our newsletter that is jam-packed with case study breakdowns of the greatest brands and how they got there, 5-minute marketing hacks you can do to improve your campaigns, and inspirational marketing stories that will leave you wanting to take on the world.
Our newsletter is sent out every Sunday mid-afternoon once per week.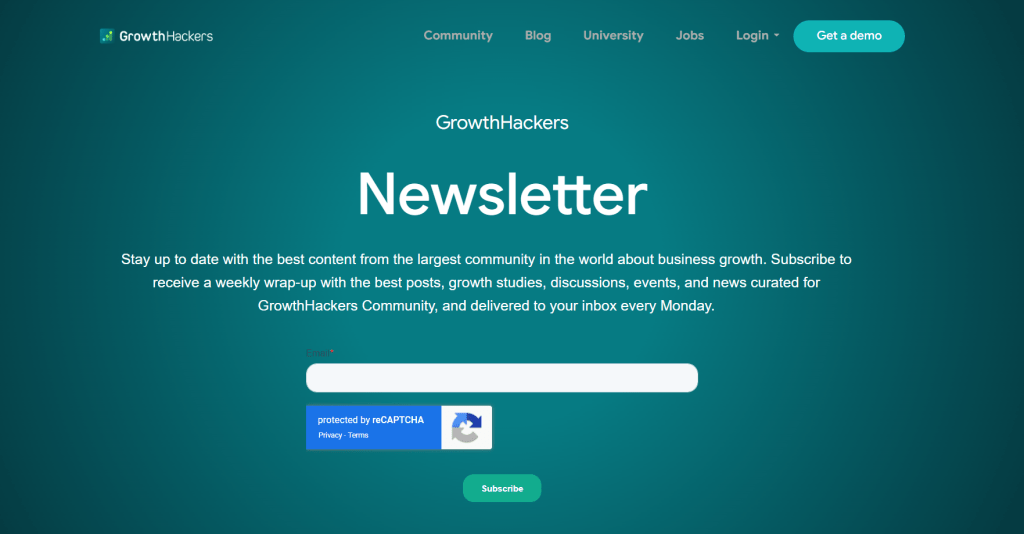 GrowthHacker was founded by Sean Ellis, the author of the brilliant marketing book "Hacking Growth." He also coined the term "Growth Hacking," GrowthHackers is a community-based blog and forum where you can find articles on user acquisition, growth hacking, product launch, marketing channels, community engagement, and so much more.
GrowthHackers newsletter is sent every Monday. It features a weekly compilation of their best posts for the week, trendy discussions, growth hacking case studies, events, and news explicitly for the community. If you are an entrepreneur looking for a community to learn from and the best growth hacking tricks, tips, and hacks, the GrowthHackers newsletter is for you.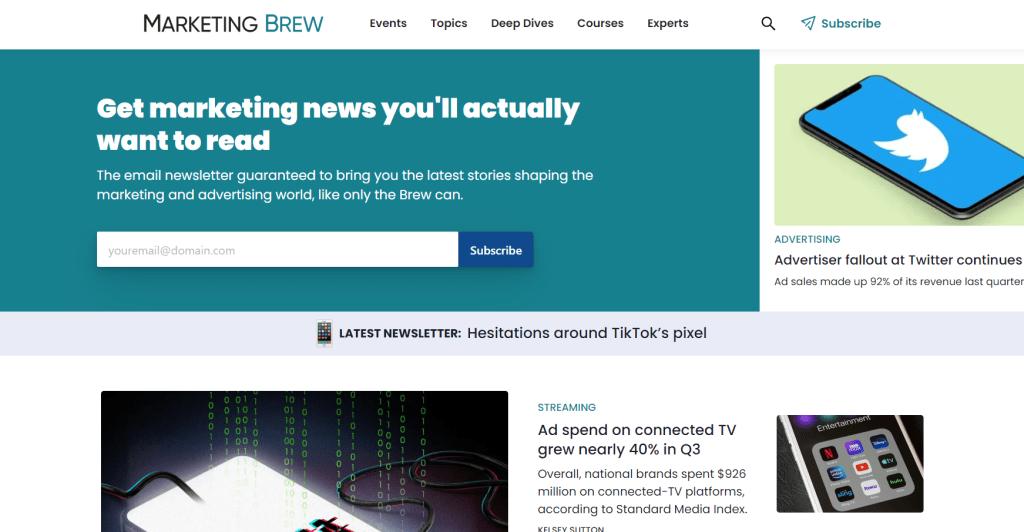 Austin Rief and Alex Lieberman established Morning Brew in 2015 at the University of Michigan. It is a free daily newsletter that talks about the latest business news in a funny and informative way to keep you entertained while educating you about business. When it comes to the best daily business newsletters, Morning Brew is considered the standard upon which others stand on.
Morning Brew has over 3 million subscribers, making it one of the most famous business newsletters in the world. If you would like up-to-date information regarding the latest trends and news and trends in the world of business while being entertained, you should subscribe to the Morning Brew newsletter.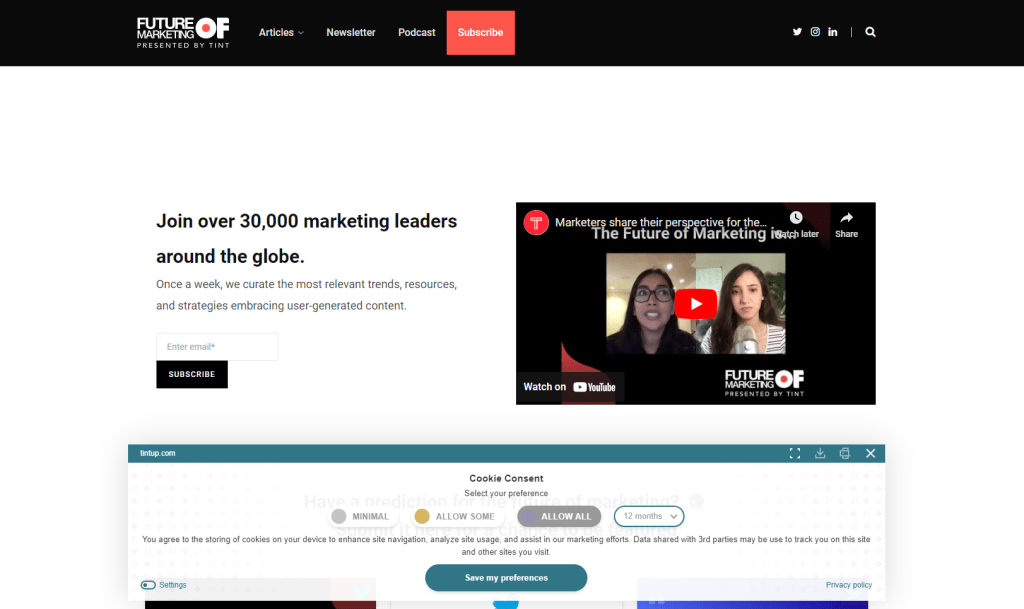 The newsletter on the Future of Marketing website, presented by TINT, covers a wide range of topics related to marketing trends, strategies, and insights. The articles in the newsletter range from deep dives into specific areas of marketing psychology to overviews of emerging trends in the industry.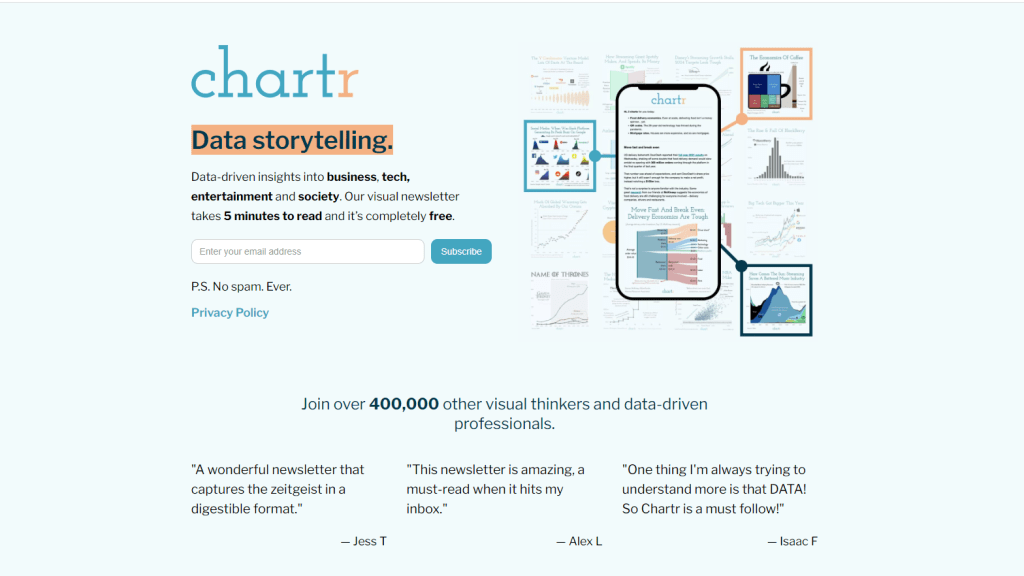 The Chartr newsletter is a treasure trove of insights, offering a data-centric view of diverse sectors such as business, tech, entertainment, and societal trends. Designed to be easily digestible, each edition of this visually engaging newsletter can be thoroughly perused in a mere five minutes.
This newsletter is a go-to resource for over 400,000 individuals who appreciate the power of data and visuals in understanding and interpreting the world around them. It is crafted to distill the spirit of our times into an easily comprehensible and engaging format. Numerous readers eagerly anticipate the arrival of each edition in their inbox, testament to its compelling content and informative nature.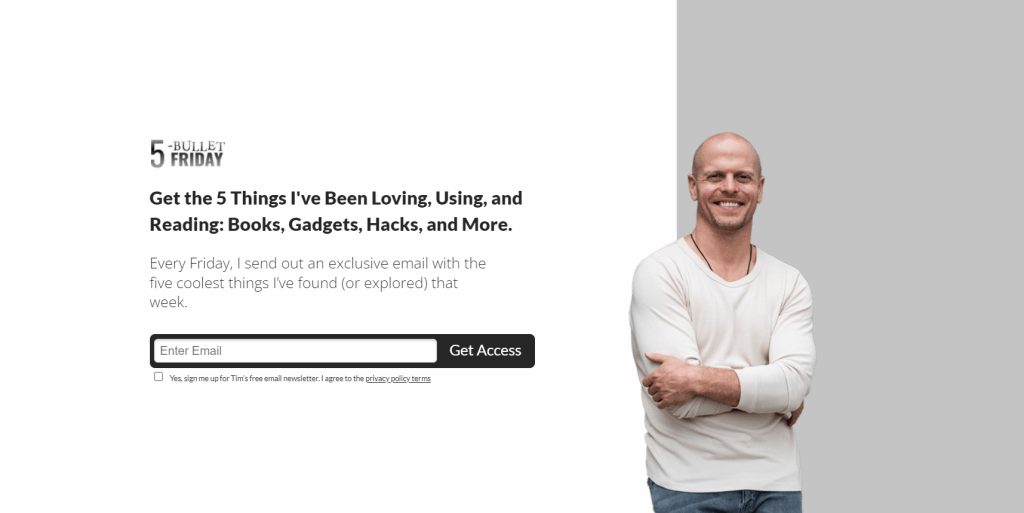 The Assist is a free growth newsletter with productivity tips, fitness and wellness tips, and works culture inspiration to help you balance your business and personal growth.
The Assist's special newsletter for women's growth or empowerment is sent out every Wednesday. It highlights all the excellent work done by women entrepreneurs worldwide and gives other women an insight into how to grow their businesses.
On Thursday, subscribers of The Assist newsletter get the #ThirstyThursday newsletter curating the most valuable posts for entrepreneurs on LinkedIn, Youtube, Twitter, and Facebook.
If you're a newbie entrepreneur, this newsletter is for you! Startup Digest is one of the best newsletters for small business owners looking to scale their brands.
The newsletter shares insightful info on what you should read and the best startups you can look up to as a beginner in the business world. It offers you networking opportunities and helps to curate your business interests. Startup Digest is a newsletter for founders and newbies in the business world.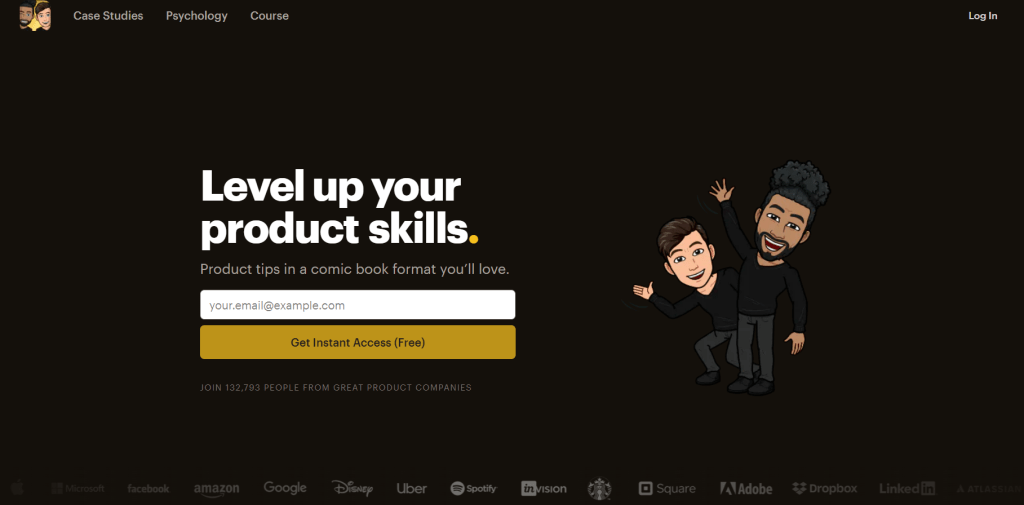 Dan Benoni and Louis Xavier Lavallee founded the Growth Design newsletter to help companies develop better products that will improve user experiences worldwide. If you subscribe to the Growth Design newsletter, you will receive insights and tips on improving customer experience, scaling growth, designing, and understanding customers' psychology.
Growth Design has over 21,000 subscribers from people from different organizations. This is a perfect newsletter for designers who want to improve their product skills and create better user experiences.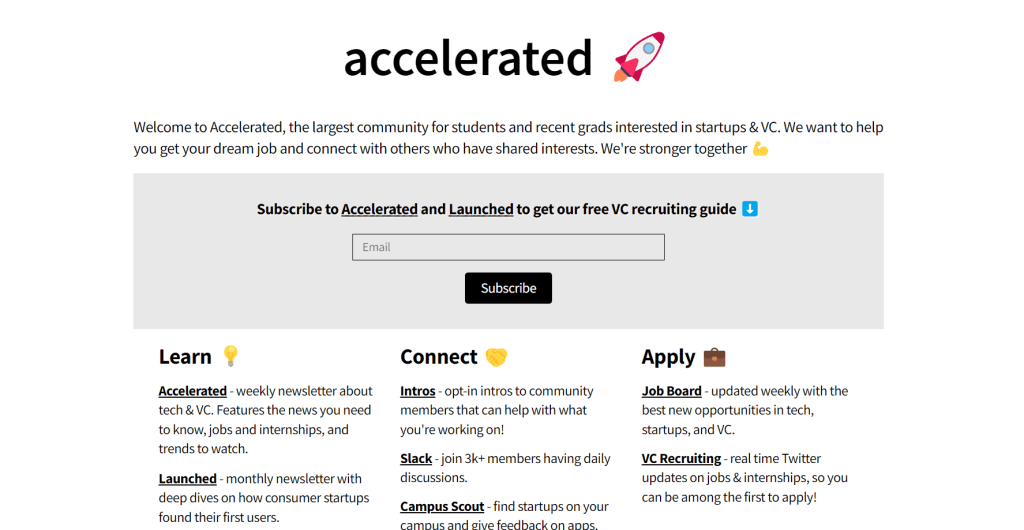 Accelerated is a newsletter about technology and venture capital sent to subscribers weekly. Justine and Olivia Moore founded this newsletter about stories on startups and technology. They share internship opportunities, interview founders and investors, and recommend new industry apps for growth and new platforms.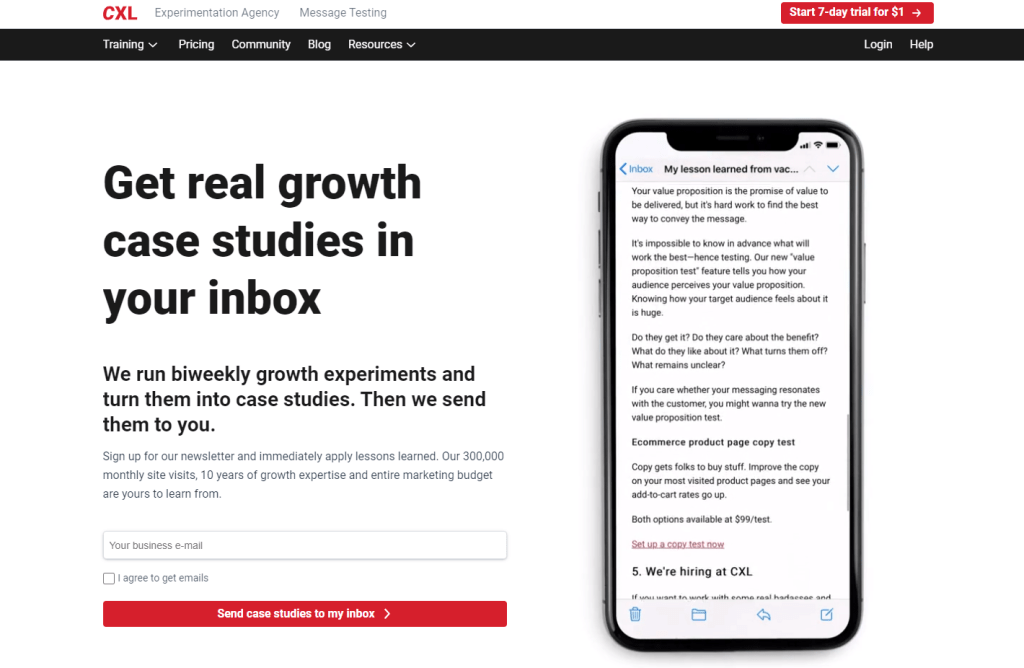 Learn from the best marketers in this bi-weekly marketing newsletter that showcases the best use cases and case studies happening in the world of marketing, growth hacking, and more.
See how over 10+ years of growth experience can help you implement new strategies.
Dharmesh Shah and Rand Fishkin, co-founders of HubSpot and Moz, came together to establish an inbound marketing community. Inbound.org and Growth Hackers are similar in that the community's upvotes promote the best posts to the top. You'll frequently read articles on topics like copywriting, conversion rate optimization, and SEO.