Best Email Marketing Tools In 2023
Marketing tools evolve quickly with new trends and innovations in the industry. While some trends come and go as fast as they come, some are here to stay. And one of those channels that have remained with us for over a decade is email marketing.
This marketing channel continues to be the top content marketing channel for B2C and B2B marketers. Marketers use it to nurture their audience as it can help them amplify their other marketing channels, such as Social Media & Organic.
With that said, marketers still face many challenges in their email marketing efforts. One of these critical challenges is the time it takes to create or draft an excellent email from the beginning. Without efficient and effective time-saving tools, email marketers may spend a lot of valuable time creating and sending out emails that potential and existing customers may leave unread in their mailboxes, which will, in turn, lead to low ROI for the company.
Many brands or companies continue to stay in this lane because they are not ready to invest in email marketing tools that would help them generate sales. However, your company does not necessarily have to use an expensive email marketing tool. Many free email marketing tools can help you save time and drive conversion.
To help you make a good decision, we have compiled a list of the best email marketing tools. The list contains services offered and price ranges to give you a comprehensive overview of each tool.
Let's dig in!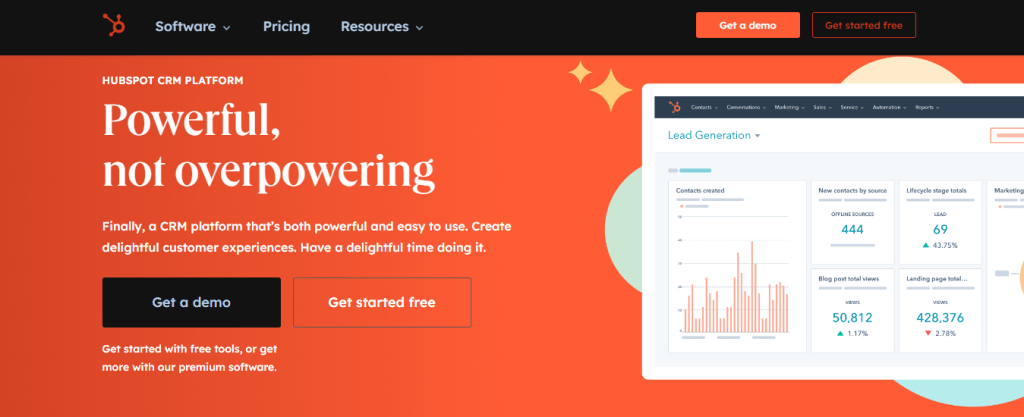 Free plan: Free 2,000 sends monthly, with HubSpot logo.
Paid plans: HubSpot's paid plans start at $480 annually.
HubSpot is best known for its marketing automation platform, but they also have a free email marketing tool that supports small and large businesses' email needs.
HubSpot Email Marketing's free edition can send kickback emails from lead offers, thank you emails following purchases, or advertise an existing campaign. The simplicity of HubSpot's free email tool is one of the most vital reasons people use it. It has a convenient drag-and-drop visual editor and pre-made templates to help you get started right away.
HubSpot Email Marketing stands out because of its native integration with other HubSpot tools, such as the free-forever CRM. Once you create an account, you can access both tools to create a centralized contacts database, organize it in a list, and manage and track email performance.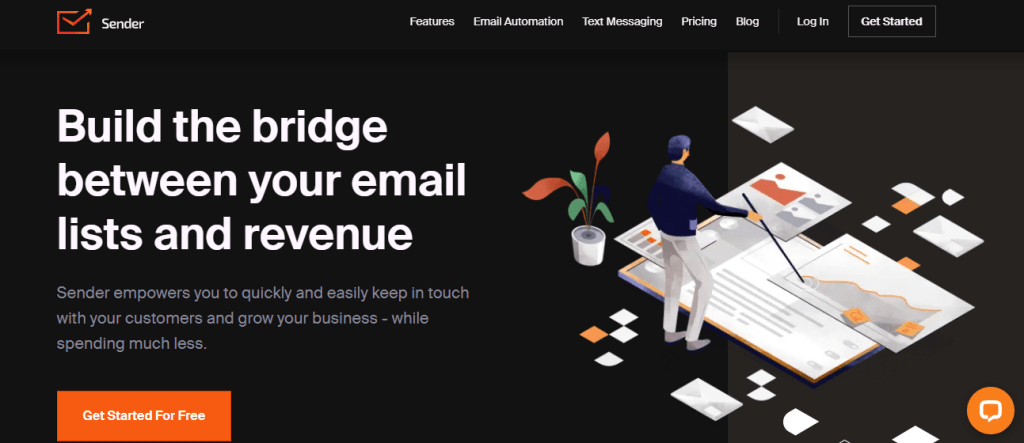 Free plan: 2,500 subscribers with 15,000 free emails monthly.
Paid plans: Paid plans start at $10 monthly.
Sender. has features that guarantee high and prompt delivery of emails to your audiences. It enables marketers without the knowledge of HTML to produce visually appealing newsletters. All you have to do is to select a template of choice and add components like photographs, videos, and text to make it uniquely yours. You can have a greater effect by personalizing your emails to customers. This makes customers feel appreciated.
One of the main reasons Sender is on our list is its powerful analytics function. Marketers can use it to keep track of things like who opened your emails, when they were opened, and who clicked on the links. It also enables you to create detailed buyer profiles based on your subscribers' behaviours, enhancing your current email campaign and creating offers that meet your clients' needs.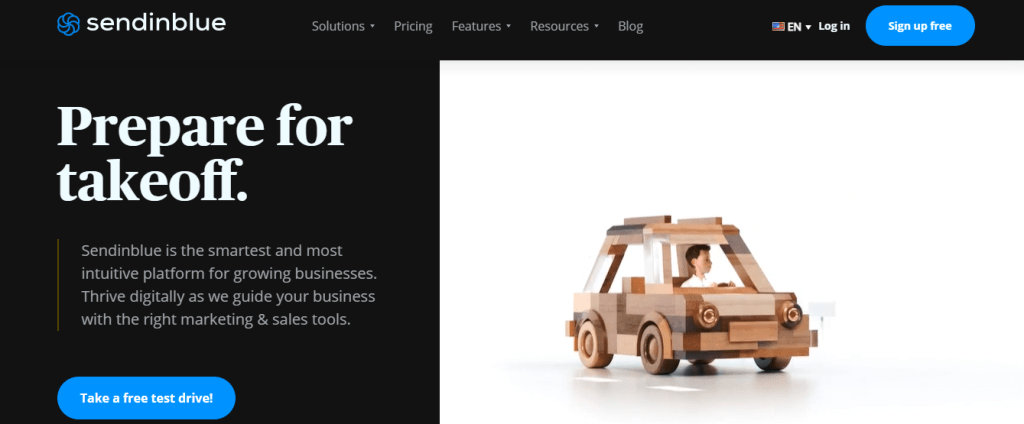 Free plan: 300 emails sent daily with unlimited subscribers.
Paid plans: 25$ monthly.
Sendinblue is a marketing platform with email tools and other unique functions such as CRM and landing page creation. With over 80 design templates to select from, you have many email design functions available to make it easier for you to create a good-looking email. All these email templates are functional, and you can preview your design and written emails to ensure that your designs look precisely how you want them to look on any screen format.
After writing and creating your Email, you can use tools like A/B testing and segment your recipient lists to eliminate the guesswork and test out campaign optimization and audience targeting.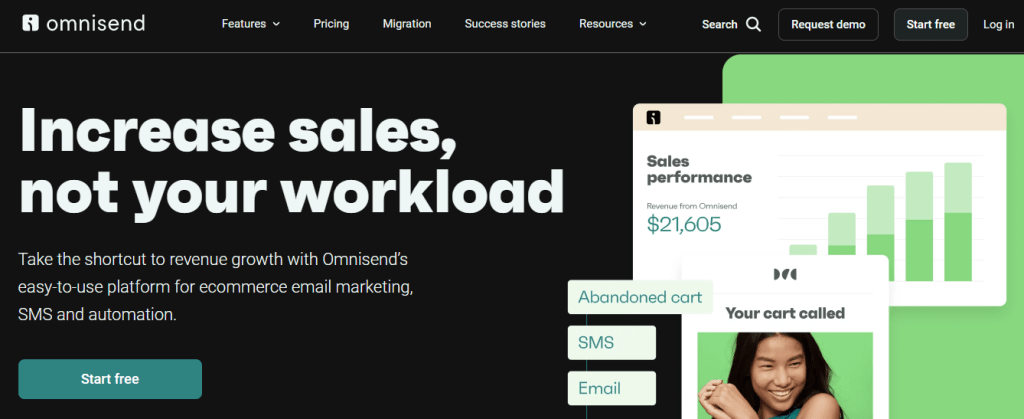 Free plan: 500 emails monthly.
Paid plan: 16$ monthly.
Omnisend is an eCommerce platform that unifies all your communication channels in a single location. Its free plan offers Email, yet it is more than enough to support small and medium-sized enterprises' email marketing campaigns. On Omnisend, you can easily time your communications to suit the comfort of your customers and automate the distribution of your emails using behavioral triggers.
Its thorough audience information can be used to send more pertinent email marketing communications. Ensure that you use a time-saving tool like the Product Picker, which allows you to choose all the products you wish to include in your Email to create eye-catching newsletters. To further improve your Email's effectiveness, you can include gift boxes, scratch cards, and discount coupon codes.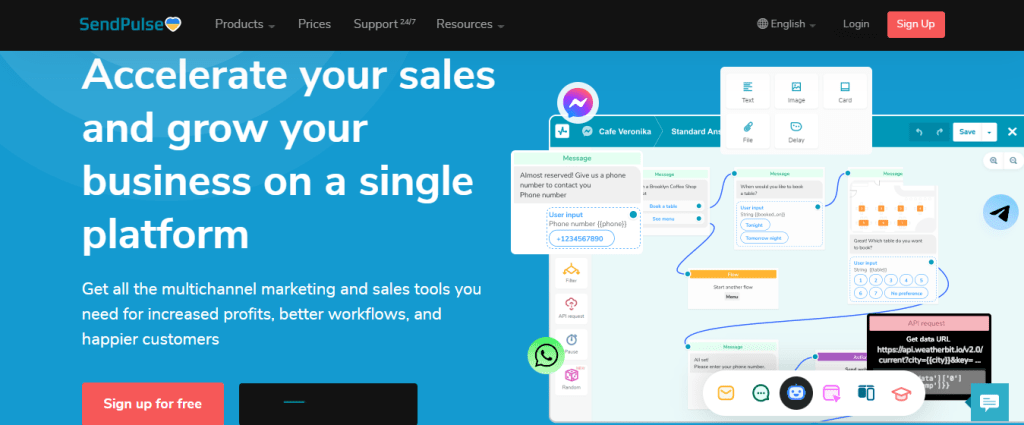 Free plan: Maximum of 2,500 subscribers with 15,000 emails monthly.
Paid plan: $9.85 monthly.
SendPulse is a multi-channel marketing platform, with its most popular product being email marketing. The email marketing platform has many professionally-designed templates that are easily customizable using the drag-and-drop editor on the platform. These customizable email templates can be automatically sent out to customers or readers at a set time based on event triggers, user behavior, and other determinants.
SendPulse's email subscriber rating feature is a great way to identify your most valuable email subscribers. It allows you to analyze and see the number of those who opened and read the Email and the click-through rates on every mail sent out to each subscriber. There are also text fields to personalize your emails by name, gender, age and job role.

Free plan: 2,000 subscribers and 14,000 emails monthly.
Paid plan: $13.99 monthly
Benchmark Email is an excellent email marketing tool to create emails that look good on any device. You can add and edit pictures by using tools provided by Benchmark. This tool lets you add effects, stickers, and text to send across your message effectively.
You can choose from many pre-designed templates based on industry, type, and occasion. You can also use the code editor to build emails from scratch for the more HTML savvy. The dual view feature allows you to view your email design while editing it, simplifying email creation for email marketers.

Free plan: 2,000 subscribers and 10,000 free emails monthly.
Paid plan: $9.99 monthly.
Mailchimp is one of the most used Email marketing solutions in the market right now. It helps you to create and schedule emails as part of its essential email marketing services, which are included in the free plan. Its smart recommendations function, which gives you helpful audience insights to maximize your marketing efforts, makes this an excellent email marketing tool for every marketer.
The Content Manager tool on Mailchimp helps you to save images and files for easy access. Here, you can send welcome emails, reminders, and other automated communication with your customer. If customer satisfaction is a marketing goal for your brand, this is the tool to use.

Free plan: 1,000 subscribers and 12,000 free emails monthly.
Paid plan: $10 monthly.
Fantastic features like the pop-up customizer and landing page builder are what make MailerLite unique from other free email marketing tools.
MailerLite has a rich text editor and a built-in photo editor to create stunning emails.
You can create responsive landing pages to match the emails you send, improving your chances of driving conversions. You can run split tests on different email variations to see what works best to drive clicks and conversions. MailerLite also provides a comprehensive campaign report with vital stats like click rate, unsubscribe rate, open rate, and many more amazing features.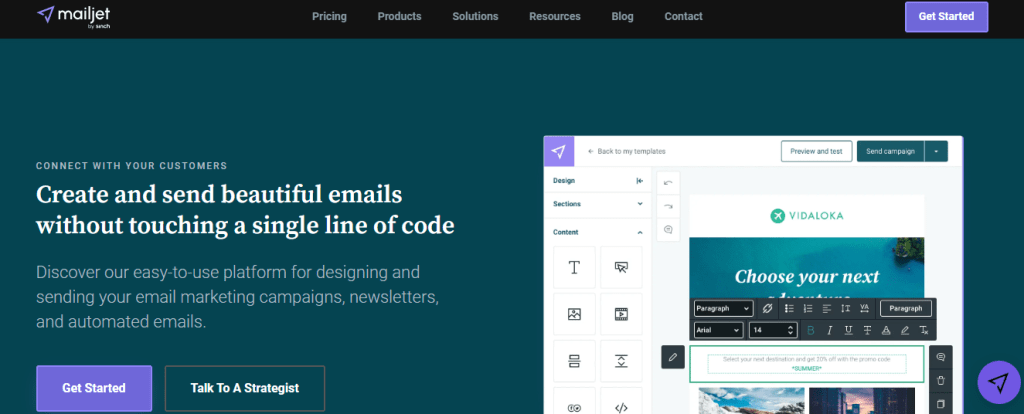 Free plan: 6,000 emails monthly and 200 emails daily.
Paid plan: $8.69 monthly.
You can create successful email marketing campaigns using the tools provided by Mailjet, which are user-friendly and collaborative. Create adaptable emails by customizing any pre-designed templates to wow any recipient, regardless of their device. The platform's real-time collaboration function, which enables seamless cooperation, would be appreciated by team workers.
You can also include dynamic content with this email marketing tool to produce emails tailored to individual recipients. This enables you to improve the outcomes of your email marketing campaigns significantly. Additionally, you can effortlessly manage your email list through a single dashboard by integrating the platform with your Customer Relationship Management (CRM) tool.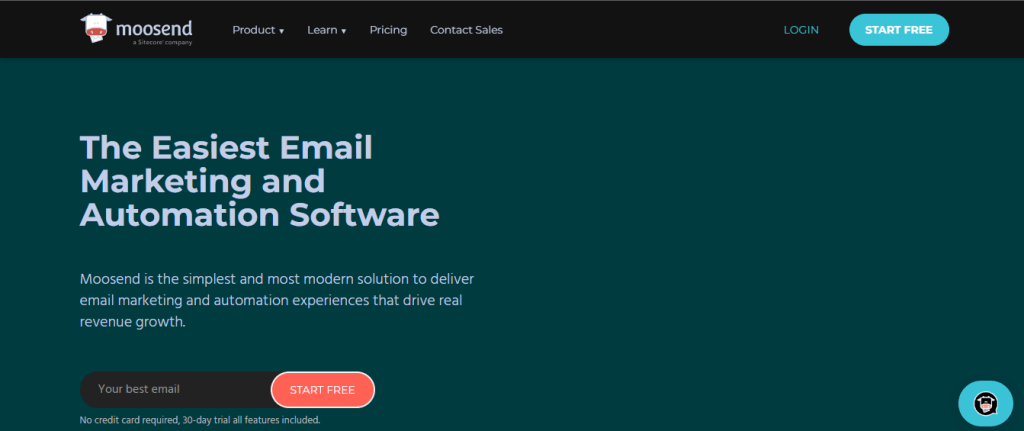 Free plan: 1,000 subscribers and unlimited free emails monthly.
Paid plan: $10 monthly.
Moosend is an email marketing tool that allows you to automate many tasks and saves you valuable time. You can design behavioral email campaigns based on your subscribers' information and activities.
Moosend has an advanced segmentation feature that allows you to send highly valid emails to each recipient, increasing the open rate, click-through rate, and ROI.
This tool provides a detailed marketing campaign performance report so you know exactly how to optimize your subsequent campaigns for better results. You can integrate it with your favorite apps to seamlessly pass on vital information between different tools. The fantastic thing about using Moosend is that it is one of the free email marketing tools that won't show its logo in your emails.

Free plans: 2,500 subscribers and unlimited free emails monthly.
Paid plans: $19 monthly
EmailOctopus is a simple and unique email marketing tool that runs on the Amazon SES infrastructure. While the free plan doesn't offer as many features as some of the other free email marketing tools on this list, it allows more emails per month than most.
You can send unlimited emails from as many addresses as possible. This makes it the perfect solution for small businesses or entrepreneurs representing other brands. It also integrates with third-party apps like WordPress, MailOptin, and Zapier to seamlessly exchange customer data among different tools.

Free plans: 2,000 subscribers and 300 free emails monthly.
Paid plans: $23.99 monthly.
MoonMail sees itself as the next-generation omnichannel communication platform, which is why it includes SMS, WhatsApp, Bots, Voice, Messenger, and Email. The Free Forever plan allows users to send over 200 emails monthly for free, that is, one campaign daily to a maximum of 10 subscribers per campaign. This is a limitation for those with large campaigns and businesses, so most people prefer using the Starter pack.
Users on the free plan still have access to a powerful drag-and-drop editor. However, if you use this plan, MoonMail's logo appears in the footer.
If you are a beginner seeking to go into email marketing, this is one of the perfect tools for you; however, as you build your list of subscribers or customers, ensure you segment them and save up for the Starterplan pack offered by MoonMail.

Free plans: 500 subscribers and 1,000 emails monthly.
Paid plans: $1,000 monthly.
Businesses or startup brands still building their followers lists that transmit to meaningful, converting subscribers can consider ExpressPigeon as a smart option. It offers the resources required to design and customize emails, automate email responses, and send many emails monthly. Although you have limited send priority with the free subscription, you have access to the premium features.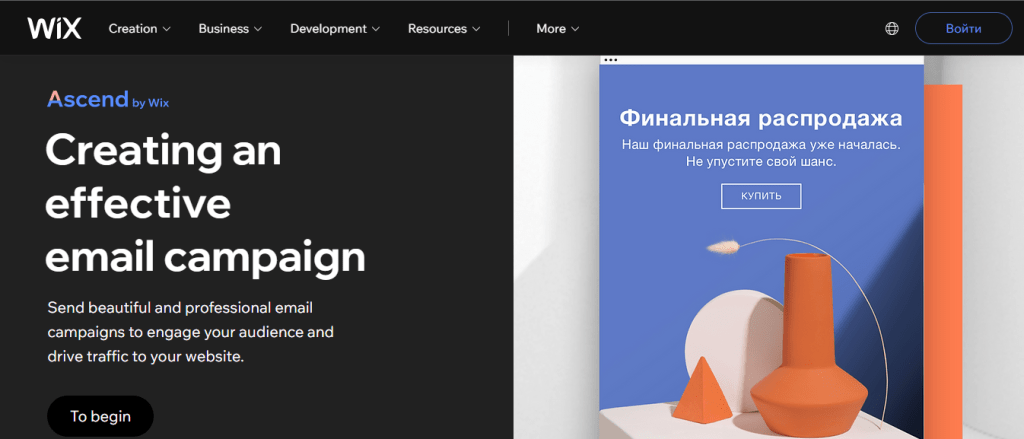 Free plan: 3 free ShoutOut emails monthly.
Paid plan:$4.90 monthly.
Wix is popularly known as a website builder. With Wix ShoutOut, Wix has combined the ease of use of their web builder with a straightforward email marketing platform with pre-built themes.
Your emails can be personalized with multiple backgrounds, fonts, colors, and other functional and aesthetically pleasing elements. Additionally, the emails look fantastic on all devices and are mobile-ready. An email list management tool for simple segmentation is included with Wix ShoutOut.
Conclusion
Most of these free email marketing tools come with robust features without upgrading to a paid plan. Small businesses and marketers should be able to make the most of them while saving time and money. Even if you need to upgrade to accommodate your business needs, you'll find that many of the paid plans are affordable and flexible enough to fit your budget.
If you're starting on this channel, check our email marketing guide for more ideas on getting the most out of your tools.