Do you use a spreadsheet to keep track of and manage your influencer list?
Everyone has been there! Spreadsheets have limitations. Choose an Influencer Relationship Management (IRM) platform if you are scaling up and seeking for a platform to assist your influencer marketing activities. It's essentially an influencer Customer Relationship Management (CRM).
There are several influencer marketing markets and platforms available. Yet, when it comes to influencer management skills, selecting the proper solution might be tough.
Check out our brief assessments of the best influencer relationship management solutions to help you move forward in your influencer marketing journey.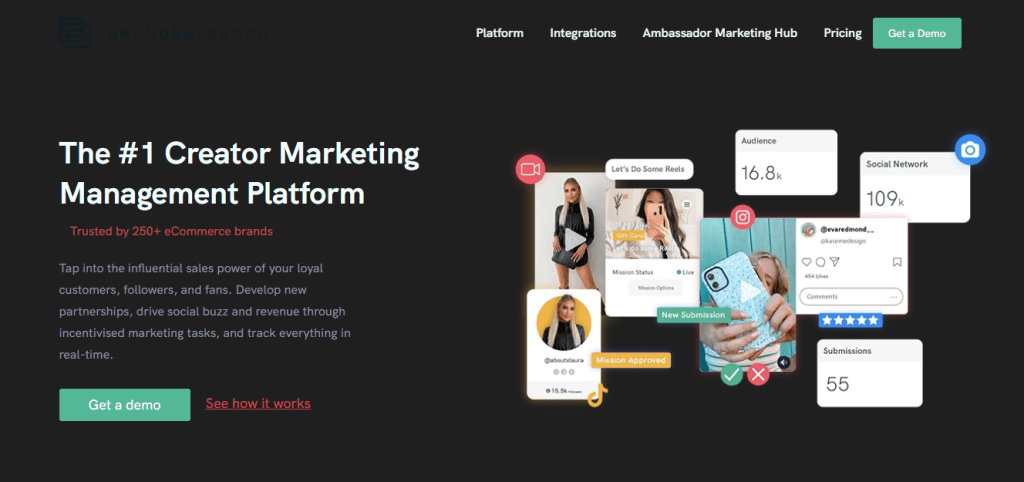 Brandbassador is an ambassador and influencer management software that provides a single location for e-commerce firms to manage their micro-influencer communities, develop and manage campaigns, gather user-generated content, drive sales, and automate chores.
Brandbassador interfaces with all major e-commerce and social media platforms, allowing you to link your e-commerce and social accounts as well as authenticate and connect to the accounts of your ambassadors.
Everything you need to administer and expand your community is included in the program. It allows for an infinite number of ambassadors and has a full set of functions for managing and engaging them.
You may preview ambassador material, demographics, and audience analytics, as well as collect campaign performance data.
Brandbassador is designed to be scaled. Powerful automation, reporting, and analytics make it simple to maintain track of your campaigns, no matter how large they get.
There are no restrictions on how you may use the program, and you can configure it to meet your specific requirements. It provides a wide range of incentives for your influencers and ambassadors, including cash rewards, sales commissions, and unique vouchers, as well as tiered points and reward systems.
Pros: Excellent customer service and excellent advice
Powerful analytics, comprehensive features, automation, and reporting
It is simple to manage your ambassadors while maintaining the 'personal touch.'
Supports both companies and influencers/ambassadors.
The smartphone app facilitates personal involvement and gamification.
Templated engagement missions save time.
All major e-commerce and social sites are integrated.
The UI and dashboard are user-friendly and well-thought-out.
Cons:
Recruiting ambassadors might be difficult if competing businesses provide more incentives.
Since there are so many features offered, it might be difficult to discover some of them.
Understanding the intricate pricing scheme takes some time.
It might be costly for small companies.
Pricing: On request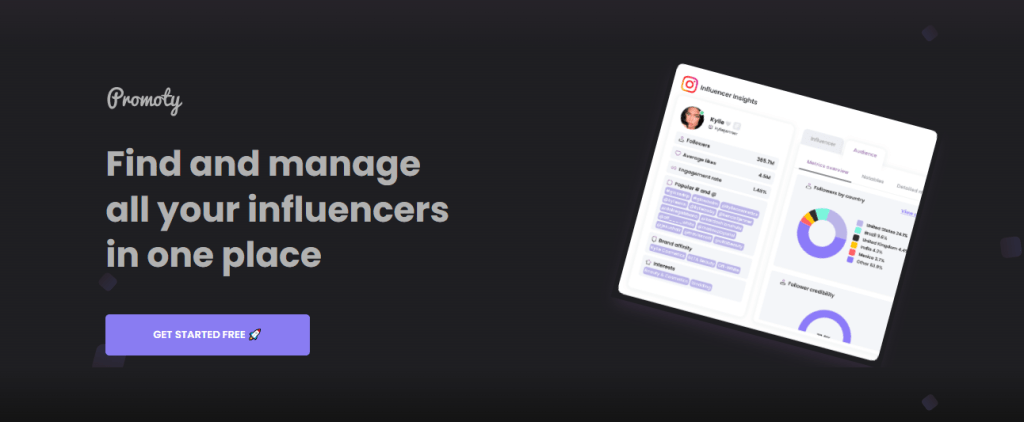 Promoty is an influencer relationship management solution that allows you to manage all of your influencers and partnerships in one location and monitor sponsored content.
Promoty's Influencer CRM allows you to identify and add Instagram, TikTok, and YouTube creators, as well as find more from a database that contains 64 million TikTok and 72 million Instagram creators. You may sort by interests, audience, and other factors.
You may also get extensive information about each influencer, such as Instagram and TikTok stats, audience demographics, interests, brand affinity, followers' reputation, and more.
Its simple and easy Trello-like interface allows you to organize them on boards and columns, with extra notes, labels, and comments, such as "is a vegan" or "tough to deal with."
Pros:
Price is really reasonable.
Simple to use interface (similar to Trello)
Advanced search for influencers
Influencers may also locate and apply to your campaigns using the site.
To communicate with influencers, use the in-app chat feature.
Insights from Instagram and TikTok
Campaign monitoring, analytics, and ROI tracking are all available.
Excellent service and assistance
There is an accessible knowledge base, forums, and online training/webinars.
Cons: Creating campaign information might take some time.
Certain features are exclusive to Instagram.
Because it is a newer tool, there may be some problems.
Pricing: The Free Plan is restricted to 10 influencer slots with a €100 campaign design cost, the Premium Plan is €50/month for 50 influencer slots, and Custom Plans are available for businesses who work with more influencers or want extra capabilities.

Meet Instagram influencers and creators on TikTok, YouTube, Twitter, and Facebook. Affluencer is the simplest influencer platform to use. You may create a "Collaboration" opportunity in minutes and start receiving applications from eligible influencers the next day.
Search for people based on their hobbies, following, social channels, preferred demographics, and more. Afluencer recruits for you once you publish.
It is simple to assess your influencer candidates. After you approve an influencer, an introduction is formed and you may message your new partner directly.
Pros:
It is quick and simple to get started.
In minutes, you may post your "Collab."
Communicate directly with influencers you trust.
An influencer base with "high engagement"
Generous no-cost plan
Support is available by live chat, phone, and email.
Cons:
Channels are only available on the major social media sites.
Pricing: $199/month.

Influencity was founded in 2014 with the goal of developing the greatest Al-powered influencer marketing platform on the industry. Their platform includes over 60 distinct functions and presently assists over 2,000 firms worldwide in managing end-to-end influencer programs.
This is the chosen influencer management platform for companies such as Johnson & Johnson and Nestlé, as well as agencies such as Reprise and Isobar.
Influencity's platform includes a search engine with over 70 million results available globally, influencer analysis including KPIs, demographics, and brand affinity, audience overlaps analysis, fake followers, campaign management tools, and reporting.
Pros:
One of the market's largest influencer datasets.
Complete control over your relationships with influencers, with no middlemen.
Usability that is simple and efficient, as well as an intuitive design
Plans that are both affordable and adaptable
Excellent client service.
Cons:
For the time being, communication with influencers must be conducted outside of the platform.
Pricing: $48/month

Tapfiliate is primarily an affiliate/referral management tool, but since it's one of the top referral management tools and many businesses use it to effectively manage their influencers, we decided to add it here.
With Tapfiliate, users can fully leverage the potential of social media, collaborate with influencers, and expand their consumer base. With more than 30 plug and play connectors for e-commerce and saas, you can quickly and easily build up your own influencer and referral programs.
Pros:
Provide personal deals and referral links
Make social media content that people would want to share Tailored commissions and performance bonuses
Create triggered email alerts
Control banners and other marketing material
Cons:
There is no social media data
Pricing: $69/month

As it was founded at the very beginning of the business, Traackr has one of the most well-known influencer marketing platforms available. The site has a fantastic selection of search criteria and a sizable influencer database. Audience analysis, visualization maps, social listening, and campaign tools are further capabilities. Even a cursory glance at numerous Traackr reviews reveals what users like the most about them:
Pros:
A variety of tools for managing and discovering influencers
Customer service extensive influencer database
Analytics and reporting
Easy of use
Cons:
An influencer bulk upload may occasionally take up to a day to process.
Customers hardly ever have an opportunity to become adept at the UI due to frequent upgrades.
Pricing: Traackr price, like other influencer marketing software vendors, is dependent on usage. It's hardly surprising that their beginning package costs $30,000. Its clientele include L'Oreal, Microsoft, and Samsung.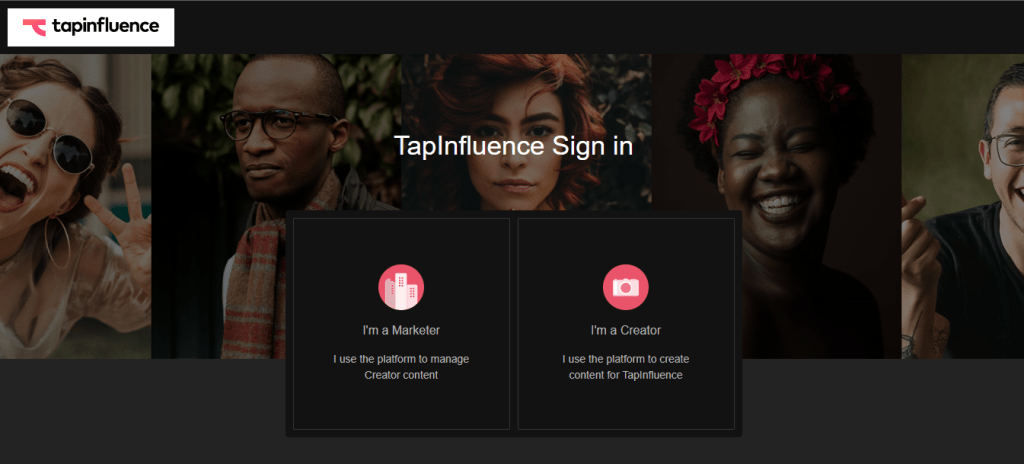 TapInfluence, which was founded in 2009 as BlogFrog, was recently bought by IZEA, a pioneer in the current influencer sector.
"Technology driven by an opt-in marketplace of content producers, influencers, and over eight years of real-life program data," they say of their offering.
The platform includes a database of influencers for discovery and outreach, analytics, and a suite of campaign management tools. The site is free to join for influencers, and they provide an average financial payout of $763.50 each month.
Pros:
Cons:
A limited set of influencers in Asia and America
Pricing is out of reach for many smaller companies
Pricing: TapInfluence price starts at $1999 a month, according to Influencer Marketing Hub, with bespoke pricing available for agencies and enterprise-level businesses.

Onalytica, a recognized industry leader, presents its influencer marketing platform as a technological partner to brands and agencies. The firm provides a blend of technology as well as staff devoted to analytics, influencer activation, and client success.
Instead of generating and administering campaigns, Onalytica's IRM platform is more suited for discovering and managing influencers.
Pros:
Effective analytics
Around 700,000 members comprise a large influencer database.
Customer service that is committed
Cons:
Campaign management is not one of my strong suits.
Because of the size of the database, irrelevant influencers appear in search results.
The platform is not the easiest to use; much training is necessary to master it.
Pricing: You'll need to contact Onalytica directly for precise pricing, but the platform is a good fit for medium to big businesses in general.
"Are you looking for Influencers? Check out our assessments of the top influencer marketing firms in 2023:"

Upfluence is a user-friendly influencer marketing tool that can be used for influencer finding, social listening, and campaign management. Its search engine is dubbed the "Google of Influence," and results may be filtered by geolocation, social network metrics, and language.
Upfluence, like any social influencer system, has advantages and disadvantages. These, however, are very dependent on where you are in your influencer marketing journey.
Pros:
An influencer database of nearly 1 million users
Social listening
The ability to apply a weight to certain keywords when filtering results
Cons:
The interface case be challenging to use
One can only filter audience data on Instagram
Pricing: Upfluence's pricing information is not available on their website. Yet, based on their clientele, it is reasonable to infer that they are in the upper-enterprise level.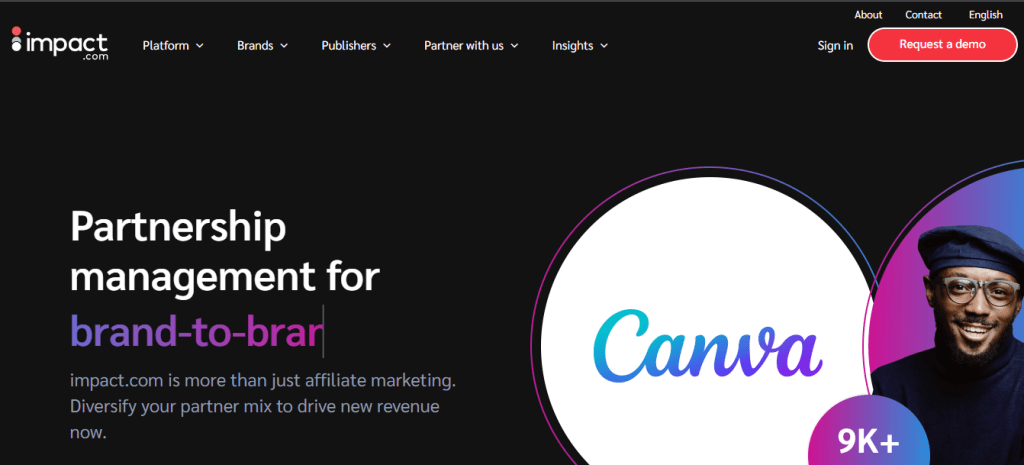 Impact helps businesses to reach out to prospective partners across the world with a strong platform for managing collaborations with influencers, publishers, affiliates, and important business contacts. Via automated nurture programs, you may enlist them.
Pros:
Influencer Content Amplification
Search/Discovery
Automated Recruiting
Influencer Relationship Management
Influencer Marketplace
Team Collaboration Tools
Content Review
Content Library
Campaign Management
Campaign Reporting
Influencer Analysis
Cons:
No proper tiered pricing
Better for enterprise level clients
Pricing: On request